David Černý: The defiant and controversial Czech artist
By Tracy A. Burns
David Černý the rebel
A rebel motivated by anger, sculptor David Černý never fails to spark controversy with his shocking and provocative creations placed in public areas. He has painted a Soviet tank pink and designed male figures that urinate into an enclosure shaped like the Czech Republic, for example. "I just enjoy pissing people off," he stated in an article on Praguenet.com.
Černý's background
Born in Prague on December 15, 1967, Černý learned his trade from 1988 to 1996 at the Academy of Applied Arts in the country's capital. He spent several years abroad, studying in Boswil during 1991 after receiving a grant from the Swiss government. The sculptor who loves to shock also lived in New York City from 1994 to 1996, first enrolled at P.S.I  Artists Residence New York and then taking part in the Whitney Museum Independent Study Program. Černý is also known for his outlandish statements about Communists, nationalists, and Czechs in general and has claimed that "the prototypical Czech is a dull and somewhat dumpling fried mass that hasn't been properly stirred and is drenched in beer."

His awards and solo exhibitions
In 2000 Černý nabbed the Jindřich Chalupecký  Award for the country's most promising visual artist aged 35 or younger. Previously, in 1990, he had received a special prize at the biennale in Kortrijk, Belgium. In 1996 he won a grant from the Pollack Krasner Foundation in the USA. The sculptor has taken part in numerous exhibitions, including solo shows in London, Rotterdam, Berlin, Poznan, Brussels, and Chicago.
From Trabants to A Day of Killing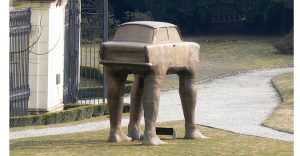 His first creation, "Quo Vadis," consisted of a plastic rendition of a Trabant car on legs. The Trabant was the most common East German vehicle during totalitarian rule. The piece remarks on the many East Germans who sought refuge through the West German Embassy in Prague in 1989. The sculpted political statement stood on Prague's Old Town Square in 1990, but now it is housed in the Forum of Contemporary History Museum in Leipzig, Germany. A bronze casting of the car on legs has been displayed in the garden of Prague's German Embassy in the Lesser Quarter (Malá Strana) since 2001. Černý caused an uproar during the 1990s when he promoted "A Day of Killing" at an art fair in London, claiming that it would help prevent population growth if everyone shot someone that day. He displayed large replicas of guns and provocative posters at the fair.
Pink tanks
In April of 1991, Černý was again embroiled in political controversy when he painted a number 23 Soviet tank pink. Part of the Monument to Soviet tank crews commemorating the Russian liberation of the country in May of 1945, the tank was still considered a national monument in 1991. Černý's undertaking caused enough of a fuss for him to be briefly arrested. His artistic action did raise a political point, though. For 40 long years, the tank had served as a symbol of the political power the Communists so easily abused. After the 1989 Velvet Revolution that brought democracy to the country, Černý twisted that national monument into a powerless, almost pretty, superficial object, devoid of historical meaning or purpose.
"Hanging Man"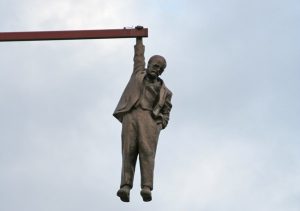 His 1997 creation "Hanging Man" portrays a 220-centimeter Sigmund Freud hanging by one hand onto a roof, perhaps hinting at man's hopelessness and powerlessness in the modern world or on the other hand, highlighting the possibility of the man saving his life by pulling himself back onto the roof. The sculpture hung on Prague's Husova Street and found its way to the Stockholm Museum of Modern Art in 1999. In 2007 it was exhibited in Chicago and in Grand Rapids, Michigan, were bystanders, convinced it was a suicide, summoned firemen to the scene.  In 2009, while on exhibition at the Seoul National University Museum of Art in South Korea, it was mistaken for suicide again, prompting emergency personnel to hurry to the rescue.
Saint Wenceslas on his horse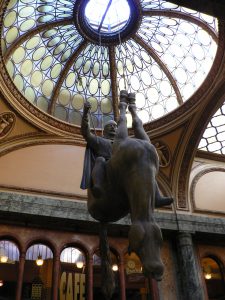 Now in the main passage of Lucerna Palace in downtown Prague, Černý's 1999 "Horse" portrays Saint Wenceslas (Václav) on an upside-down dead horse as a parody of the Czech patron saint who had been a heroic duke of Bohemia and was assassinated in 935. Saint Wenceslas appears proud and victorious on his horse in the monument on Wenceslas Square. Černý's creation could be interpreted as a symbol that the modern world can no longer depend on legends as part of its national identity or, just the opposite, that Czechs no longer revere their historical past.
Dreamlike babies on a tower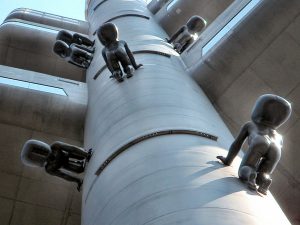 The ten dreamlike babies inching their way up the unconventional Žižkov Television Tower in Prague 3 were placed permanently on that eyesore during 2001. The grotesque infants are climbing a structure that jars the beauty of Prague's skyline, a symbol of the Communist era, unable to reach adulthood, their growth stifled by this landmark of totalitarian rule. The outrageous babies also portray a bloated, surreal childhood. Some assert that Černý's creations did not improve the looks of the Žižkov site: VirtualTourist.com even rated the TV tower as the second ugliest building in the world. Three bronze babies were also placed on Prague's Kampa Island.
A trip to the Futura Gallery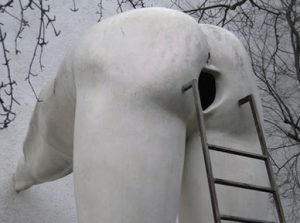 A sculpture of the lower parts of two men's bodies stuns and shocks visitors of the Futura Gallery in Prague's Smíchov district. Černý installed a ladder so that the curious could climb to an opening in the figure's rear end and watch a video of Czech President Václav Klaus and Czech artist, musician, and former dissident Milan Knížák eating slop while listening to "We are the Champions." Černý had been one of Knížák's most severe critics when the performance artist and art theorist served as the general director of the National Gallery in Prague. Černý claimed that Knížák had no interest in current artistic trends. With this work, Černý brutally and viciously demeans Czech politics' highest-ranking official and Czech art's highest-ranking official.
Urinating figures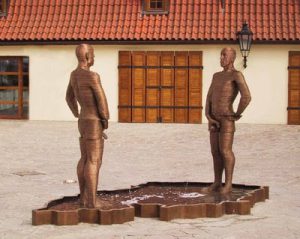 One of his brilliant yet controversial creations is installed at the Herget Brick Works in Prague's Lesser Quarter. The two bronze urinating figures, each 210 centimeters high, pee into an enclosure the shape of the Czech Republic while turning their upper torsos and raising their penises. The stream of water writes quotes from legendary Prague residents. If the viewer sends a text to the number shown next to the sculptural grouping, the figures will write the message.
From Liberec to North Carolina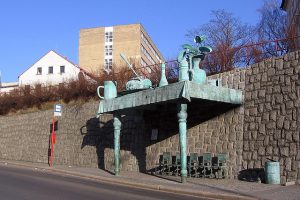 But Černý's ingenious and offensive works are by no means limited to Prague. At the Sokolská u zdi bus stop in northern Bohemia's Liberec, he designed a bronze bus stop shelter shaped like a table on which can be seen parks in Liberec, a human head, and other objects. Černý's creations have even found their way to the USA, as his "Metamorphosis" dominates the site of the headquarters of American Asset in Charlotte, North Carolina. Designed in 2007, the giant metal head with moving layers is seven meters high and weighs 13 tons. Water flows from the figure's mouth into a pool.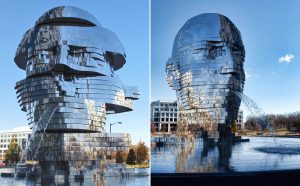 "Shark"
Černý's sculpture "Shark," a parody of British artist Damien Hirst's embossed shark, caused a major uproar. The 2005 creation shows Saddam Hussein in a tank of formaldehyde and was exhibited at the Prague Biennale 2 that same year. In 2006 it was banned in Belgium and Poland. Belgian politicians were concerned that Muslims would be offended.
"Entropa" and the big controversy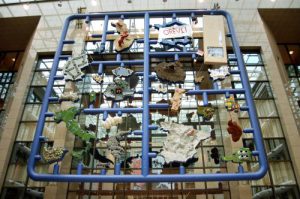 Perhaps Černý's most controversial work is "Entropa," designed on the occasion of the Czech presidency of the European Union Council during the first half of 2009. Highlighting stereotypes of each nation in the EU, Černý created form of a jigsaw puzzle that is 16 meters high. Germany is shown as a series of highways, shaped like a swastika, and a banner announcing a strike demarcates France. The Czech Republic focuses on statements by President Václav Klaus. Italy is shown as soccer players masturbating with the soccer balls each sportsman holds. Sweden is dominated by a big IKEA box containing Grippen fighter planes. (Sweden had loaned Grippens on a 10-year lease to the Czech Republic.) Britain is portrayed as an empty space due to its Euro-skepticism and isolation from the rest of the continent. Černý's depiction of Bulgaria as squat toilets ignited such outrage that the Czech ambassador had to travel to Sophia to deal with the issue. The sculptor found himself in more trouble when he initially claimed that the creation was the work of artists from all 27 member states and then later admitted only he and his three assistants had forged the offensive piece.
"London Booster"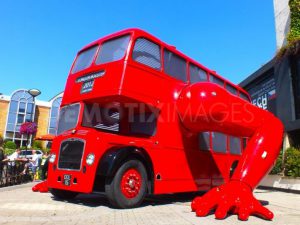 "London Booster" was Černý's contribution to the 2012 Summer Olympics. A six-ton, 1957 double-decker bus has been transformed into an athlete doing push-ups as its giant, mechanical, bright red arms move up and down to a soundtrack of pants and groans. The back of the bus is shaped like a human's rear end. Various videos are displayed in the windows. In an article on Czech server idnes.cz, Černý pointed out that while pushups are a universal exercise, they also serve as punishment in the military and in prisons. Czech entrepreneur Andrej Babiš purchased the piece and is having it installed in Prague's Chodov district at the headquarters of his Agrofert firm.
The Head of Franz Kafka (The Metamorphosis)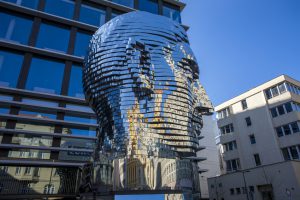 Located in a courtyard in front of the Quadrio shopping center near Národní třída, this monumental installation by David Černý consists of 42 moving layers that rotate 360 degrees and occasionally align to look like Franz Kafka's head. Weighing 39 tons, the Metamorphosis reaches 11 meters or 36 feet in height. No less than 42 motors dictate the movement of the giant, silver head. The use of abstraction for a portrait somehow reflects the avulsion from reality present in so much of Kafka's art, or rather a rereading of reality through very unrealistic means.
The design is based on Černý's Metamorphosis Fountain in a business park in Charlotte, North Carolina, where the mirrored sculpture also spits out water into a reflecting pool.
"Happening-maker" or true creator?
Critics tend to report people's outrage at Černý's designs or stress that the artist is rebellious. However, an argument can be made that he is more of a "happening-maker" than a true creator. When an art-maker has the specific intention of shocking the public, he has already made a choice that affects his work. Černý pokes fun at "safe" topics, such as nationalism, Communism, and consumerism. He has not totally been ostracized, making him less of a rebel than he at first appears.