Egon Schiele: an Austrian painter in Cesky Krumlov
Known for his figures with distorted forms and provocative nudes, Austrian painter Egon Schiele became one of the leading artists in Vienna during the early 20th century, greatly influenced by Secessionism and Austrian painter Gustav Klimt's creations. He even lived for a short time in the southern Bohemian town of Český Krumlov, where he caused much commotion.
Early life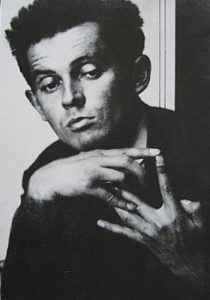 Born June 12, 1890, in Tulln on the Danube, the young Schiele adored his father Adolph, who was the station master in Tulln. They shared a love for trains. His mother, born Marie Soukopová, was a Czech from Český Krumlov, and Schiele was never close to her. Three of his siblings died at birth or at a young age. He had two other sisters, Melanie (born 1886) and Gertrude (born 1893), his favorite with whom he had an incestuous relationship. The introverted loner moved to Krems when he was 11 and finished high school in Klosterneuburg. Though he did poorly at school, he received top grades in the drawing. In 1905, when he was 15 years old, Schiele was devastated by his father's death; the most important person in the world to him was gone. At this time the theme of death came to the forefront in his artistic renderings.

At the academy and under the tutelage of Klimt
In 1906 he began studying drawing at an academy in Vienna under the tutelage of Christian Griepenkerl, a painter who focused on historical works and portraits. Disenchanted with Griepenkerl's conservatism, Schiele emulated Klimt's style. His dislike for Griepenkerl compelled him to drop out of the academy three years later when he and other former classmates created the short-lived Neukunstgruppe. In 1907 Klimt took Schiele under his artistic wing and encouraged him in Secessionist style. At the 1909 Vienna Kunstschau exhibition, Schiele's work stood proudly alongside Klimt's.
His sojourn in Český Krumlov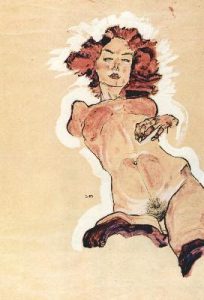 In 1910, while living in Vienna, Schiele claimed he was disgusted that so many artists were jealous and even hated him. He fled from the Austrian city he loathed and shared a studio with his friend Erwin Osen in Český Krumlov. There he focused mostly on portraying nudes. He left Český Krumlov, only to return in 1911 with his teenage girlfriend Valerie (Wally) Neuzil, who sometimes modeled for his paintings. Neuzil had also modeled for Klimt and may have been Klimt's mistress as well. However, the Krumlov residents disapproved of the couple's bohemian lifestyle and were horrified that Schiele painted very young girls. As a result, Schiele and his girlfriend were thrown out of the southern Bohemian town.
Imprisonment
After their short stint in Český Krumlov, Schiele and his girlfriend moved to Neulengback outside of Vienna, where once again the inhabitants complained about his lifestyle. In April of 1912, he was arrested for kidnapping and raping an underage girl. His drawings were confiscated by the police, too. Schiele spent three weeks in jail before the charges were dropped, but he got a sentence of three days' imprisonment for displaying erotic drawings in his studio because children congregated there. The judge even burned one of his drawings in the courtroom. While incarcerated, Schiele made the most of his artistic talent by forging 12 paintings about life in prison.
A new woman in his life
A life-changing event occurred in 1914 when Schiele met sisters Edith and Adele Harms, who resided across the street from his studio.  The following year he decided to marry the middle-class, Protestant Edith, though he did not want to stop seeing Wally. Infuriated, Wally left him. Schiele and Edith exchanged vows on June 17, 1915.
War
Then war entered the picture. Shortly after his wedding, Schiele was put on active duty in Prague, where he guarded Russian prisoners. Thanks to some contacts, he was transferred to an administrative post in a prisoner-of-war camp. Schiele even worked on his art in a small studio on base while he looked after the food supplies. Even though he was in the army, his creations continued to be exhibited – in Berlin, Munich, and Dresden, for instance.
At the peak of his career
In 1917 Schiele moved back to Vienna and found himself at the peak of his career. During the 49th Secession exhibition in Vienna, 50 of his pieces drew accolades and much admiration. He became known internationally and received numerous commissions. Even more success at exhibitions in Zurich, Prague, and Dresden followed. When Klimt died in February of 1918, Schiele was considered his successor, the new rising star.
Death
But Schiele did not have long to bask in the limelight. During the fall of 1918, Edith caught the Spanish flu that was ravaging Europe. Six months pregnant, she died on October 28, 1918. Schiele also succumbed to the disease, dying three days later at age 28.
His paintings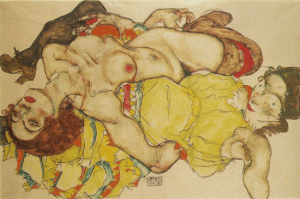 Schiele's output included portraits, nudes, landscapes, and still lifes. Early in his career, he was greatly influenced by Klimt's erotic paintings and Austrian painter Oscar Kokoschka's expressionist portraits and landscapes. In 1909 he made a detour from Klimt's style. Portraying his subjects from a unique perspective, he created deformed, disturbing, and twisting figures. Some labeled his nudes as pornographic and focused on his undeniable obsession with nudity. It is noteworthy to consider that his portrayals of nudes may have been meant to shock a bourgeois world with which he did not identify. Also, how much of his "pornographic" work might have been executed on commission? It is true that repressive cultures of that time, from Victorian-Edwardian England to Wilhelmine Germany, also thrived on a florid underground circulation of obscene artwork, very popular among men from all walks of life. It was not until the end of his career that he began to concentrate more on landscapes, creating pictures of towns and houses. His "Krumlov Landscape" from 1916, for example, is now called the Wolfgang-Gurlitt Museum in Linz home.
Schiele's legacy: Egon Schiele Arts Center in Cesky Krumlov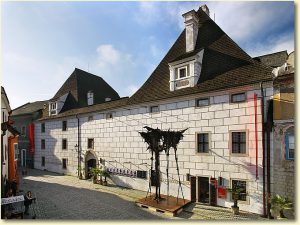 Schiele's career has inspired biographical films, dance productions, and musical scores as well as numerous essays. The Leopold Museum in Vienna features more than 200 of his most significant works. Other collections are housed in the Egon Schiele Museum in Tulln and the Osterreichische Galerie Belvedere in Vienna. Although Český Krumlov banished Schiele during his lifetime, the town now honors the masterful painter with the Egon Schiele Arts Center, set in a 16th-century Renaissance building complex that once was the town brewery. Schiele's watercolors and drawings are displayed there, and the center hosts temporary exhibitions.