Franz Joseph: The most beloved emperor of the Habsburg Monarchy
By Tracy A. Burns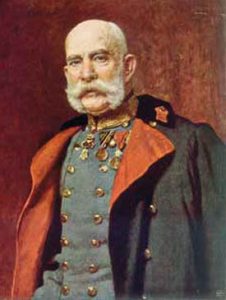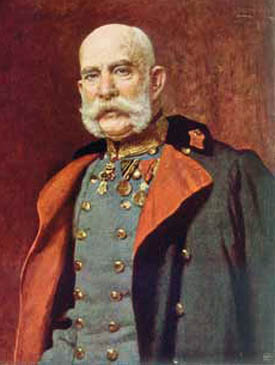 Born on August 18, 1830, in Vienna's Schönbrunn Palace, Franz Joseph was the oldest son of Archduke Franz Karl and Princess Sophie of Bavaria. He would become the most respected and most beloved member of the Habsburg dynasty, ruling the Austrian Empire and then the Austro-Hungarian Empire for 68 years, the third-longest reign in the history of Europe.
Childhood
As a child Franz Joseph worshipped his grandfather, who died when he was almost five years old.  He had three younger brothers – Archduke Ferdinand Maximilian (born 1832), Archduke Karl Ludwig (born 1833), and Archduke Ludwig Viktor (born 1842). His sister, Maria Anna, passed away when she was only four. Franz Joseph's childhood was brief – at age 13 he had already taken up the position of colonel in the Austrian army, for which he fought on the Front in Italy in May of 1848. Soon, though, he joined his family in Innsbruck, where they had taken refuge from the demonstrations and rebellions in Vienna. He first met his future wife, his cousin, Elisabeth, in Innsbruck, when he was 10 years old, though he was not yet smitten by her.

Personal life
When Elisabeth was 16, he fell in love with her and married her in Vienna on April 24, 1854. However, the marriage was fraught with tensions that were both personal and political; they were by no means the ideal couple. To make matters worse, their first daughter Sophie died at a young age, and their only son Rudolf killed himself. They had two other daughters, Gisela and Marie Valerie. His wife, nicknamed Sisi, was assassinated by an Italian anarchist in 1898, an event that emotionally crushed Franz Joseph. In 1885, though, Franz Joseph had taken actress Katharina Schratt as his mistress and felt justified in securing Schratt for himself due to his wife's physical and emotional distance.
Becoming Emperor
The family finally fled to Olomouc in Moravia during the troubled days of 1848. It was in Olomouc on December 2, 1848, that Franz Joseph became Emperor at the early age of 18. His uncle, Ferdinand I, had abdicated to try to put a halt to the revolutions in which people advocated democracy and participation in government and expressed their discontent with political leaders. Another significant factor – one that would affect Franz Joseph throughout his reign – was the emergence of nationalistic tendencies throughout Europe.
The era of absolutism
During the 1848 to 1860 absolutism era in the Empire, Franz Joseph was well respected and was the glue that held the Empire together during tough times. Not everyone liked him, though. There was an attempt on his life in 1853 when Hungarian nationalist János Libényi stabbed him in the neck from behind. Fortunately, the Emperor was donning a high, sturdy collar that saved his life. This era was also one the disappointments in terms of foreign affairs, which brought absolutism to an end.
Reforms and defeats
A constitution was passed in 1861. Reforms to modernize Austria were instigated, and industrialization arose. With the growth in the industry during the 1860s, the bourgeoisie emerged, and they competed with the aristocracy. Problems persisted in foreign affairs. Austria lost the Second Italian War of Independence and then the Austro-Prussian War of 1866, a defeat that help trigger the Empire's downfall.
The Austro-Hungarian Compromise
This painful loss resulted in the Austro-Hungarian Compromise of 1867, in which the Emperor and Hungary formed a state of dualism, making the empire a single state for war and foreign affairs but leaving Hungary's internal issues to Hungary. After the Dual Monarchy was established, the economy became more capitalist, and many railways were built. At this time Franz Joseph became the most revered member of the Habsburg dynasty because he had shown that he could compromise.
The upsurge of nationalism
Yet many ethnic groups were not satisfied. Even though there was a majority of Slavs in the Empire, Germans had the upper hand. The German-Czech issue was a great problem during Franz Joseph's reign. The disagreements concerning language were most fierce in Bohemia, where Czech was made the official language of the bureaucracy, and the Czechs greatly developed their own culture during the 1870s and 1880s. A Czech-speaking section of Prague's Charles University was established, too. Germans voiced resentment, and demonstrations took place in Austria. But ethnic identity was not only an issue in Bohemia. In Hungary the Slovaks, Croats, Romanians, and Serbs asserted themselves. Emperor Franz Joseph not only gave more autonomy to ethnic groups but was fluent in German, Hungarian, and Czech. His skills in Polish and Italian were admirable as well.
Franz Joseph and Archduke Franz Ferdinand
Franz Joseph's relationship with his heir, Archduke Franz Ferdinand of Austria, was very tense. The Emperor did not approve when Franz Ferdinand wanted to marry Sophie Chotek, who was considered inferior because her family members were not descendants of any European ruling dynasty. Franz Joseph finally allowed the marriage in 1900. Yet he set down harsh conditions. The couple's offspring could not be heirs to the throne. Sophie was forbidden to sit in the royal carriage or royal box. The Emperor and many other relatives did not attend the wedding.
Conflicts with Bosnia-Herzegovina and the outbreak of World War I
When Austria annexed Bosnia-Herzegovina in 1908, it brought about an unsettling reaction from the West, and many Serbs wanted a pan-slav state directed by Serbia. There were many clashes between the Serbs and Austro-Hungary. The two Balkan Wars added more friction and greatly contributed to the downfall of the Habsburg Monarchy. This tension led to Archduke Franz Ferdinand's assassination by Bosnian Serb Gavrilo Princip on June 28, 1914, in Sarajevo, where the Archduke was overseeing military maneuvers. Franz Joseph did not attend the funeral for the Archduke and his wife, who was also killed. World War I began less than two months after the assassinations. Following Franz Ferdinand's tragic demise, Franz Joseph favored war.
Death and legacy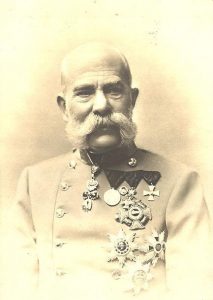 Franz Joseph had been anxious to keep his Empire intact and to guard over his subjects. Yet he could not sacrifice any of the power he had inherited. He died in Schönbrunn Palace on November 21, 1916, at age 86. His grand-nephew Karl took the throne for two years before Austro-Hungary perished. Franz Joseph is known to have been a solid but hard-working, serious ruler. He was awarded numerous medals and honors during his lifetime. Habsburg bureaucracy is generally considered to be strict but honest and very well-organized. For instance, one of the reasons why Lombardy, Veneto, and Tuscany are three successful Italian regions is that Austrians ruled there for some time. An archipelago, glacier, and university carry Franz Joseph's name, too. His life and career were highlighted in the 1974 BBC miniseries, Fall of Eagles.