Vienna's Sisi: Empress Elisabeth of Austria
By Tracy A. Burns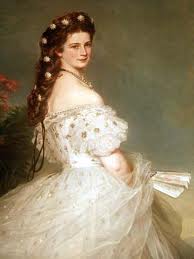 Detesting the strict regimen and ceremony of royal life, Empress Elisabeth, nicknamed Sisi, danced to the beat of her drum, defying Habsburg protocol. The longest reigning Austrian empress – a post she held for 44 years – championed individual identity and independence as a free spirit who traveled the world and wrote poetry. Certainly, the wife of Emperor Franz Joseph I came face-to-face with many a tragedy.  Fate was unkind to her throughout her life, and she was not even spared a peaceful death. An Italian anarchist made sure of that. Concentrating on beauty and exercise all her life, she became a world-renowned icon.
Childhood
Sisi was born in Munich on December 24, 1837, as the fourth child of Duke Maximilian Joseph in Bavaria and Princess Ludovika, the daughter of Bavarian King Maximilian I and his second wife, Karolina von Baden.  While growing up in Possenhofen Castle, she was carefree, living a leisurely lifestyle rather than being bogged down by rigid protocol. She did not even always attend her lessons.

The proposal that wasn't and that was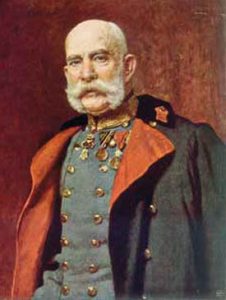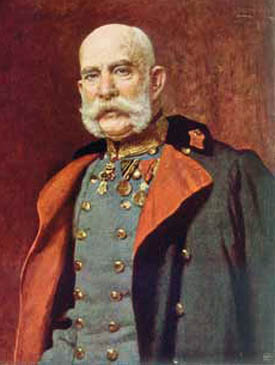 An introvert, Sisi went with her mother and older sister Helene to Bad Ischl in Austria, where Franz Joseph was to propose to Helene.  Fate intervened, and Franz Joseph was immediately bewitched by Sisi instead. He told his mother, who had a strong hold on him, that he would never marry if he was not allowed to wed Sisi, then 15 years old. A few days later the two lovebirds announced their engagement. A mere eight months passed before the wedding took place at Vienna's Augustinian Church on April 24, 1854. Soon riddled by health problems, Sisi became quickly disenchanted with court life, and an emotional distance between herself and her husband arose.
Her children
Sisi also soon learned how malicious and domineering her mother-in-law could be.  Disapproving of Sisi, Sophie named Sisi's first child (1855-57) after herself and insisted on taking control of the child. Sisi did not have a say in her child's upbringing. Her first three children would be reared by her mother-in-law. When her firstborn died of typhus at age two, Sisi was devastated, falling into a deep depression. Her second child was also a daughter, named Archduchess Gisela of Austria (1856-1932). To the Habsburg clan's relief, Sisi finally gave birth to the heir to the throne, Archduke and Crown Prince Rudolf (1858-1889). Sisi made sure she would remain in control of her fourth child's upbringing, though. Marie Valerie (1868-1924) was born in Budapest, where she was also baptized. She was educated in the Hungarian language.
The death of Crown Prince Rudolf
Rudolf's life would end tragically as the 30-year-old committed suicide with his young mistress Mary Vetsera in 1889 at his hunting lodge in Mayerling. Some sources claim that the two devised a suicide pact after Rudolf's father insisted they end their relationship. The heir's death would have a significant influence on Austrian politics. After his suicide, Sisi only wore black, carrying a white parasol and hiding her face behind a fan.
Her close ties with Hungary
During her first trip to Hungary with her husband, Sisi fell in love with this nation that exhibited so much independence. She felt strong ties with the people. The feeling was mutual. While Sisi did not delve much into politics, she played an instrumental role in the negotiations that resulted in the Dual Monarchy of 1867 and made sure that Hungary obtained equal rights. That year Emperor Franz Joseph was declared King of Hungary while Sisi was proclaimed the nation's queen. She learned Hungarian, too.
Sisi's beauty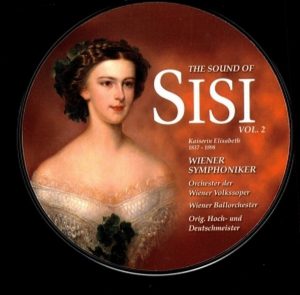 Sisi was obsessed with her beauty and exercise. While she stood at 5' 8" (172 cm), she only weighed 110 pounds (50 kg) or less, thanks to much fasting. Her waist circumference was a mere 16 inches. She had her long, chestnut brown hair styled for three hours per day and used many beauty products. While her hairdresser combed her hair into lavish styles, Sisi studied languages, not only Hungarian but also ancient and modern Greek. (She was fluent in English and French, too.) She substituted a metal bedstead for a pillow bed in order to improve her posture. Raw veal or crushed strawberries lined her facial mask, made of leather. At night she also put cloths soaked in vinegar above her hips so she would remain slim. Her hair was washed with a mixture of egg yolk and cognac once every two weeks.
Exercise and other interests
An exercise addict, she even had the Knights' Hall of the Hofburg equipped as a gym. Horse-riding, hiking, and gymnastics were her favorite sports, and she rode for hours daily, making quite a name for herself as an equestrian. Other interests included history, philosophy, and literature, and she wrote poetry that was tinged with sadness and despair.
Travel
So uncomfortable in Vienna's regal life and yearning to escape, she became a restless, obsessive world traveler, even living in Corfu for a while. Madeira and Venice became temporary homes as well. Other stops included Morocco, Algeria, Malta, Egypt, and Turkey.
The assassination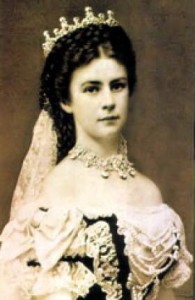 Even though she had been warned of possible assassination attempts, Sisi traveled to Geneva in disguise in 1898 at the age of 60. While she and her lady-in-waiting were walking along the promenade at 1:35 p.m. on Saturday, September 10, the 25-year-old Italian anarchist Luigi Lucchini, who had previously worked as a valet to the Prince of Aragon, stabbed her with a sharpened needle file. Sisi collapsed and lost consciousness. She did make it to the boat she had planned to ride on but needed immediate medical attention, and the boat quickly returned to Geneva. By the time her body was laid down on the bed of her hotel room, it was too late. She had passed away at 2:10 p.m. When the emperor received news of her death, he was devastated as the two had developed a close friendship toward the end of Sisi's life.
The fate of the assassin
Although Lucchini tried to escape and got rid of the file, he was soon apprehended, and the file was discovered the next day. Lucchini had not originally intended on killing Sisi, but rather had been set on murdering the Duke of New Orleans. When the former mason could not find the duke, he read in the newspaper that Sisi was in Geneva, though disguised. His purpose was to kill any sovereign, no one in particular. It has also been suggested that, aside from political reasons, his resentment toward mother figures played a role in the rather senseless crime. Proud of his actions, Lucchini confessed to the crime in court. He was sentenced to life imprisonment – the laws of the Geneva Convention forbid him from receiving the death penalty  – as a common murderer rather than as a political criminal. After an unsuccessful suicide attempt in 1900, he would spend another 10 years behind bars before he killed himself with his leather belt on October 16, 1910.
The funeral
Sisi left much of her estate to Archduchess Elisabeth, her son's daughter, and her granddaughter. Her funeral was lavish, fitting for an empress, the exact opposite of what the shy, restless sovereign would have wanted. Her body was laid out in a triple coffin with the inscriptions "Elisabeth Empress of Austria" and "Queen of Hungary," which the Hungarians were allowed to inscribe at the last minute. Eighty-two rulers and members of the nobility paid their respects on September 17, when she was laid to rest in a tomb in the Church of the Capuchins, along with the other Habsburg empresses. As dictated by tradition, her heart was placed in the Augustinian Church while her intestines were kept in the crypt of Saint Stephen's Cathedral.
Legacy
Sisi has been the focus of many books and films as well as an opera, ballet, a cartoon series, and the most successful German-language musical. Jean Cocteau even wrote a play about her. Her residences are now open to the public. Visitors can tour the imperial apartments at the Hofburg Palace and her rooms at Schönbrunn Palace in Vienna. Her villa in Ischl, Austria, her Achilleion Palace in Corfu, and her former home in Gödöllő, Hungary also offer tours. Many places bear her name, including two districts of Budapest and a railway.
The Sisi Museum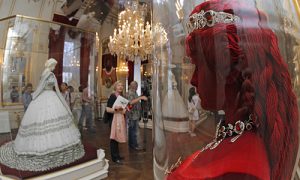 Located in Hofburg's imperial apartments since 1994, the Sisi Museum features more than 300 items that belonged to the empress, including her death mask, the file with which she was stabbed, her traveling medical chest, parasols, and gloves. The black coat that she was covered with after the assassination is also on display.