About Us
Dear Travelers,
We are happy to welcome you to Prague and the Czech Republic. Our company Custom Travel Services s.r.o. (Ltd) specializes in providing highly customized tours around the Czech Republic and Eastern Europe. The company was founded by my parents in 1993 (after the fall of the Communist regime), and I am honored to follow in my parents' footsteps.
Why Chose Us
We offer tailormade tours you cannot find anywhere else. We are constantly on the lookout for those extraordinary things, places, and people that make a tour with us so unique from the other companies out there.
Important Partners & Great References
We are honored to partner with Expedia.com, GetYourGuide.com, and UrbanAdventures.com in Prague. Our team was chosen to fact-check several DK Eyewitness Prague travel guides and come recommended in the Sightseeing tours section. Our quality travel services are also recommended by the Fodor's Travel Guide, a leading American travel publisher, Michelin Must Sees Prague 2012, The Financial Times, Tripadvisor.com travelers, the Austrian Newspapers "Badener Zeitung" and by thousands of our satisfied clients; many of them sent us references.
Team of Local Experts
Together with my colleague Prague experts, we will make the most out of your stay by arranging various travel services for you, your family, friends, colleagues, or business partners.
Quality Services Since 1993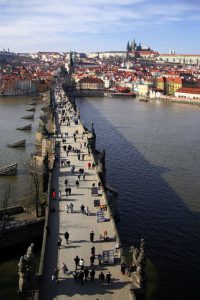 – Prague Tours & Day Trips from Prague
– Central and Eastern Europe Tours
– Transportation across Europe by car, van, minibus, or limousine
Book a Tour and Support Charity
We are honored to support several beneficial projects: children's homes in the Czech Republic, a Buddhist college in Nepal, and more. By making a booking, you help us make the world a better place.
Our Clients
Individuals, couples, and families as well as bigger groups, businessmen, guests of foreign embassies and governmental offices, school groups, church groups, and ex-patriots living in Prague as well as renowned companies. Many of them send us testimonials.
Feel free to contact us. Thank you for reading, and welcome to our home, Prague!
Jaroslav Pesta
Phone: +420-608-866-454
CEO & Private Prague Guide
PRIVATE-PRAGUE-GUIDE.COM
Custom Travel Services s.r.o. | With You Since 1993
Pristavni 531/24 | 170 00 | Prague | Czech Republic
ID: 483 63 804 | VAT CZ 483 63 804

Website: www.private-prague-guide.com
The company Custom Travel Services s.r.o. (Ltd) is registered in the Commercial Register maintained by the Municipal Court in Prague, Section C, Inset 146964. VAT No: CZ 483 63 804.