References
Most current references at the Tripadvisor.com
You will be forwarded to the Tripadvisor.com website
Also, read "Meia wrote about us."
Fodor's and Michelin Travel Guide, The Financial Times, Austrian Newspapers Bedaner Zeitung
Older testimonials
Private-Prague-Guide.com is honored to provide sightseeing tours for the Singapore choir
during a choir competition in Prague every November.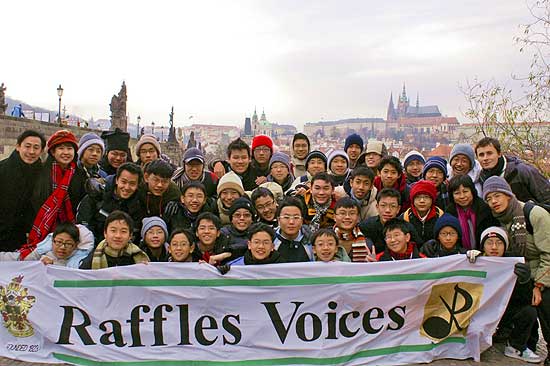 TRIPADVISOR.COM TRAVEL FORUM
Clients from Boston, Massachusetts, October 2009
We took a private tour with Jay Pesta's company (mentioned here many times). Our guide was Andrea, and she was very good. It was very nice to have our own guide since we saw groups that were very large. It lasted about 6 hrs, and we saw all of the major highlights of the city.
TRIPADVISOR.COM TRAVEL FORUM
Dr. Lorrie Klein, May 2009, USA
I highly recommend Private-Prague-Guide.com for a private walking tour. The owner, Jay Pesta, took us around, and he was extremely knowledgeable and spoke English very well. We saw and learned an incredible amount in our "Best of Prague" 6-hour walking tour. It would have taken us several days and several guidebooks to see as much if we were guiding ourselves around. He was also very reasonable.
Chat over a glass of beer after The Best of Prague Tour.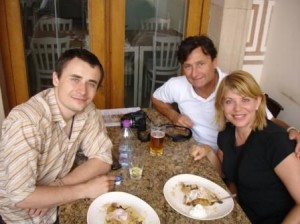 Barbara and Bruce, April 2009, USA
Jay, we so enjoyed our time in Prague with you. You really enhanced our stay, and we felt as though we had really gotten to know your beautiful city. should any of our friends/family go, we will surely recommend your tour company.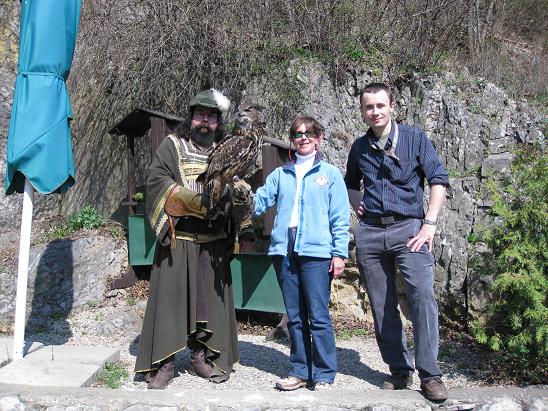 TRIPADVISOR.COM TRAVEL FORUM
Karen, February 2009, USA
We just got back from a four-night visit to Prague. We contacted Jay Pesta from Private-Prague-Guide.com, and he connected us with Veronika, a young, energetic, and very knowledgeable guide who took us through 2 half-day walking tours of the city of Prague and a day at Terezin, a former concentration camp. He was very informative, and we all really enjoyed the tours. He was also very helpful in suggesting great inexpensive restaurants off-the-beaten-path. Jay was very attentive to all our needs. He always confirmed times, arranged airport transportation, and always got back to me quickly. If you are traveling to Prague, it is worth checking out Private-Prague-Guide.com. We are happy we found Jay and his tour company.
Frank, August 2008, USA
Andrea, Linda, Shannon, and I returned to Chicago a few days ago and wanted to extend our thanks to you for two incredibly enjoyable days touring Prague. During our time on the hill, to the Jewish Quarter, and to all of the other stops along the way, we had a fantastic time (and a fun time as well – zipping along on your metro's escalator). We learned a lot, feel like we know your city, and are eager to return.
Rhonda & Gary, July 2008, USA
Jay, Thank you so much for today! We ad such an amazing time. Pro se to send you the photo of you and Gary as well as a wonderful recommendation.
Billie & Ed, July 2008, USA
Dear Jay: We very much enjoyed our time with you, and you made our first visit to Prague and the Czech Republic very special. Billie and I appreciate the Bohemian Potato Soup recipe. I hope you saw my posting on Tripadvisor.com and that I wrote something useful for you. I would be happy to give a personal recommendation to anyone you want to email me about our experience. You are a most charming & informative guide!
Shana, April 2008, USA
Dear Jay, I just wanted to email to say that your colleague guide, Miss Veronika, was wonderful! Thank you so much for the recommendation and the speed in finding us a guide!
TRIPADVISOR.COM TRAVEL FORUM
April 2008, USA
We just returned and have a GREAT young man named Jay Pesta who has excellent English and is well worth his fees. He is n t expensive compared to others and will custom it to whatever you want/need. We took the all-day Prague tour as well as two days of out-of-city tours. If you need a place very special to stay, U Zlate Studne, The Golden Well. Careful; there is another near the same name and not the same. This one is near the castle. Really nice!
February 2008, USA
Hello Stepanka, I just wanted to say thanks to you for our wonderful time in Prague. We have told everyone we know about you – if they ever come to Prague, they will see you. Have a  FABULOUS holiday, and come see us in Houston soon.

TRIPADVISOR.COM TRAVEL FORUM
September 2007, USA
Monday – May 14 – Private Day Tour
I had contacted Jay Pesta based on Fodorite recommendations to try to schedule his Best of Prague tour for today. He was already booked but referred me to his associate Stepanka who sent me an enthusiastic email offering to take us on the same walking tour. I booked with Stepanka and asked her to meet us in the hotel lobby at 9:30. She was right on time, and we set out for a great 6-hour day tour of Prague.
FODOR´S TRAVEL FORUM
April 2007, USA
All I can say is WOW! My husband and I had such a great time. On a scale of 1 to 10, the weather for 11 out of 13 days was just perfect, which only enhanced the beauty of the places we visited! Thanks to all who helped plan our trip. We were especially happy with Jay Pesta guiding us on a walking tour of Prague. He had a plethora of knowledge and was a treat to spend the day with
Owen, Carol, Ron, Liz, Bob & Janet, USA, March 2006
Hi Jay, just to say thanks for a fantastic day. It was a perfect way to introduce us to Prague. Liz was really surprised about her 50th & thought it was great.
David & Jayne, USA, March 2006
Dear Jay, We would just like to thank you for showing us around your beautiful city on the 6th of March and being available at such late notice. We had an excellent time and saw many things that we would have missed if we had just wandered around ourselves. Your explanations of the many places we saw were first class, and we enjoyed every single part of our tour. We are looking forward to visiting Prague again in the near future and have told many of our friends about it and have recommended them to contact you if they visit for a guided tour around your beautiful city. Many Thanks.
John Hilke, USA, October 2005
Dear Jay, we want to express our thanks for your outstanding help in touring Prague. We had a great experience, and much of the credit goes to your informative, engaging, and personable work in guiding us through the city and its spectacular sights. Your ability to relate the architectural styles to the historical context was especially enlightening. When we think back to our visit to Prague, we'll always be associating it with your efforts to help us get the most out of our visit.
Tom and Adele Casey, USA, October 2005
Jay: We've been back in Canada for two weeks now, and we just want to tell you we are still talking about your tour of Prague. It was a special day for us. We realize it was a difficult day for you. You had lost your wallet on the metro, and this was your second tour of the day, but your enthusiasm and patience made us appreciate how special Prague is. It is a city we would like to visit again. So than s again, and we won't hesitate to recommend your tour to any of our friends.
Jim Gossman, Jeffersonville, Indiana USA, April 2005
I just wanted to thank you for the wonderful tours, the Best of Prague, Karlstein Castle and the "Towers of Prague tour" which showed Prague from a very different point of view. Being able to look down and see the courtyards and gardens that one cannot see from the street makes walking up a few steps worth the effort. Also, t e trip to Český ráj was a very nice escape from all of the traffic and noise of Prague to this very peaceful area for a nice walk in the woods.
Uli, Los Angeles, USA, 12.July 2004
We had a wonderful time in Prague, and a big reason for that was our tour guide, Jay. He is a very personal guide, and we felt like an old friend is showing us around. He was always patient with us and very knowledgeable about every question we asked him. We were totally happy with him, and if some of my friends will visit Prague, I will definitely recommend him.
Alice, USA, 27.June 2004
I just finished my day tour with Jay (Jaroslav) and wanted to compliment him highly. I got back to my youth hostel and was sharing some of the things that I'd learned about the history of Prague and the monuments with some of my roommates, and they were blown away that I'd learned so much and wanted to know. "Who is this guy?!?" So hopefully, you'll get more calls/e-mails. It was a lot of fun, and I definitely got my money's worth. Thank you again.
Darwen Gerodias, Abu Dhabi, UAE, 1.May 2004
You have made my stay in the Czech Republic so memorable. The warmest congratulations upon your beautiful country's entry into the newly enlarged EU. May all the hopes and expectations of joining the EU be fulfilled and bring more tourists to awesome Prague. Congratulations.
Cinta Porter, USA, 20. Februar  2004.
I just wanted you to know how much the ten of us appreciated all your help in Prague. With only three days to fit in the beauties and history of Prague, you were magnificent. We had a very varied crew of people from our mid-thirties to the too early seventies, and you were able to accommodate each one of us. Your thorough knowledge of Prague was only surpassed by your apparent love for the city and its people. Thanks for getting us to two very characteristic restaurants where the Czechs eat – and so affordable! I look forward to visiting Prague again – next time with all of my family- and having you show us the ropes again. Good lu k and continued success!
Oliver Bludau, PerCent's financial consulting GmbH, Munich, Germany, 2003
Dear Jay, we would like to thank you for your interesting, exciting, and funny "Best of Prague – Tour." We visit a lot of big cities and see many tour guides. With you, we have found somebody who just doesn't give a dry history explanation but also understands people and their needs. We very much enjoyed your tour with lots of knowledge and charm.
Kees van der Veeken, Netherlands, 2003
Dear Jay, let me thank you in the name of our whole group. We came to Prague to celebrate 30 years of existence of our amateur music group, and you really made it fun. We very much appreciated your musicians on the Prague-oriented tour. The place you recommended us for dinner far exceeded our expectations. Thanks, thanks, thanks
Dave and Louise Cancilla, USA, 2003
Jay!!! How are you doing? We just wanted to let you know that we had a great time on your tour. There was so much history that it was quite a lot to remember. We went to our local library and borrowed some videotapes about Prague to refresh our memories, and we have to tell you that your tour was better than the tapes!!!! Thanks again for such an amazing tour not only through your beautiful city, describing each milestone of architectural history, but also for our great journey with you through the history of Prague itself and telling us facts about Prague through the ages that were both fascinating and informative! We are definitely coming back and will experience it with you once again someday. But in the meantime, if any of our family or friends are planning a trip to Prague, we will give them your number for a guaranteed trip of a lifetime!
High School class: Hugo, Sabine, Jena, Hannah, Anika, Kirstin, Jasmin, Kristina, Christoph, Ines, Susanne, Claudia, Dennis, Stefan,…, Germany, 2002
Dear Jay, we would like to thank you for the wonderful five days in Prague! You made our school trip much more enjoyable.
Mr. Holzmann and his High School class, Germany, 2002
Guide: very good, good explanations, friendly, open-minded, helpful, excellent.
Eileen and Howard Putter, Bellevue, Washington, 2001
Dear Jay, thank you for being our wonderful guide in Prague. We love your city and had such a great time. We hope you have a good summer. Stay in touch. Thanks again.
——————————————————————————–
Foreigners Living in Prague – "Expats"
Deborah MacLellan, Canada, tel.: 011 42 0608 011 124, Europe + 42 0608 011 124
As a Canadian living in Prague, Jay has provided many services for us both as a tour guide and fulfilling expatriate services. Our main guests have thrilled at the inside view of Prague that Jay has provided them. His enthusiasm, knowledge, and love of the Czech Republic are clearly evident as he unearths some of the many beautiful treasures this city and country hold. Prague's history is a richly woven tapestry that Jay fluently unravels as he walks you through the churches, castles, and cobblestone streets of Prague. His enthusiasm and knowledge of the city draw you in as he paints you a colorful picture of Czech history.
From an expatriate perspective, Jay has been helpful in bridging many of the gaps that come with moving to a country where you do not speak the language. He has everything from negotiating deals for us to shopping and tracking down a missing painting. He is trustworthy, honest, and informed. I would highly recommend his services."
Pam and Brent Layton, Seattle WA, USA, 2001
We lived in Prague for a year, and the first thing we did with all our guests was set them up with Jay for a few hours. Everybody agreed that it was the best intro to Prague they could have had.