Karel Gott – An international singing sensation
By Tracy A. Burns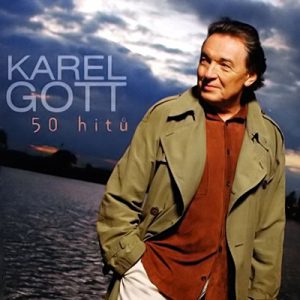 Dubbed the "Golden Voice of Prague" and the "Sinatra of the East," singer and painter Karel Gott is perhaps best known for his romantic ballads. Yet his success – from 1960 to the present – is largely due to a diverse repertoire that includes operas, classical compositions, jazz, musicals, rock 'n roll, country, western, and disco music. The most acclaimed singer in the country, he has performed all over the world – in Cuba, China, Greece, France, Italy, Great Britain, Venezuela, and the United Arab Emirates, among other countries.
July 14, 1939, and the future brilliant bard
Karel Gott was born in Pilsen on July 14, 1939, four months after the Nazis had formed the Protectorate of Bohemia and Moravia during a time period when the Gestapo spread terror throughout the lands. As a child, Gott aspired to become a painter. It seemed that a painting career was not in the cards, though, when he failed his exam at UMPRUM, the Secondary School of Art and Industry. (His paintings would not be exhibited in public until the early 1990s.) The future brilliant bard then took up work as an electrician. Greatly influenced by jazz music, he also began to study singing privately.

On the way to stardom
During the 1950s the talented tenor often participated in competitions. In 1958, for example, he took part in the "Looking For New Talent" competition, but it seemed a singing career was out of the question. Gott did not impress the judges at all. Still, he persevered, and later that same year found himself performing at the Vltava Prague Café. In 1960 he attended the Prague Conservatory, engrossed not only in classical singing techniques but also in popular songs. His mentor Konstantin Karenin had studied under the guidance of the internationally acclaimed Russian bass opera singer, Feodor Chaliapin. That year Gott also began what would become a long-lasting professional career. Two years later, Supraphon Records released his first single – a number called "When We Are Twice As Old" that was a duet with jazz singer Vlasta Průchová. He went on tour in Poland and the former USSR, as the world got a taste of his talent and charisma.
Hitting the top of the charts and international acclaim
The already extremely popular artist joined the Semafor Theatre in 1963. That year he compiled his first solo, a Czech version of Henry Mancini's "Moon River" and his own song, "Eyes Covered By Snow." It hit the top of the charts, and Gott was awarded his first of 36 Golden Nightingale Awards that declared him the most popular male Czech pop singer. He left the Semafor Theatre in 1965 when he co-founded his own venue, the Apollo Theatre. Gott toured not only throughout Czechoslovakia but also other countries with the Apollo Theatre and created his first album, called "Karel Gott Sings." At the MIDEM International Fair of Record Companies and Music Producers festival in Cannes, France, he earned even more international acclaim. Gott also signed a contract with Polydor/Deutsche Grammophon Gesellschaft record company to produce his songs in German-speaking countries in Europe. His career took off again during a six-month sojourn in Las Vegas.
Politics enter the picture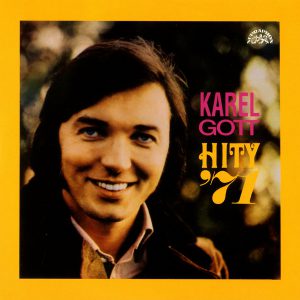 During the 1970s, he often appeared on TV shows, and in 1977 he received recognition as a Merited Artist. That same year politics infringed upon his career. Dissatisfied with the regime, Václav Havel and other dissidents created Charter 77, a document promoting human rights and harshly criticizing the Communist government. In protest against the regime, Gott sang "Where Did My Brother Jan Go This Time?" about Jan Palach, a university student who set fire to himself as a protest against the Communist regime in 1969. The Communists were far from impressed. Gott was told that in order to continue singing in the country, he had to sign the anti-Charter, supporting the Communist government and taking a stance against Charter 77. Gott not only signed but also gave a speech at the Theatre of Music on February 4, 1977. Thus, he actively participated in the protest against the dissidents. He was not alone, though. Many nationally-acclaimed artists signed the anti-Charter, including singer Jiří Schelinger, actor Miloš Kopecký, and writer Bohumil Hrabal. Despite Gott's huge popularity, some Czechs lost respect for him. Yet his career continued to blossom in the 1980s.
More international recognition
During the 1980s the celebrity continued to receive much international praise. In 1983 he was awarded the Gold Medal of Hermann Lönse in Munich for his renditions in German. Two years later, he won the National Artist Award. In 1986 he nabbed Polydor's Golden Needle award, which until then only Leonard Bernstein and Herbert von Karajan had received.
Reconsidering retirement
In 1990 the singing legend decided it was time to call it quits, but his farewell tour was such a sensation that Gott reconsidered.  In 1992 he nabbed the Supraphon Diamond Record Award for 13 million soundtracks. Indeed, Supraphon and Karel Gott have had a long and fruitful relationship. From 1962 to 1993, he tallied 182 singles, 63 albums, and two independent videocassettes for that record company.
The stuff legends are made of
Gott has performed on more than 70 independent concert tours. Polydor released 125 of his albums and 72 singles throughout German-speaking lands from 1967 to 2000. In fact, in 1997 Gott accepted a lifetime contract with the company. He has become a familiar face on TV programs and has sung in films. Fans appreciate his music from Japan to the USA, where he has performed at Carnegie Hall and the Nashville Country Music Festival Fan Fair (five times). He has sung in French, Hebrew, Italian, Latin, Russian, Spanish, Slovak, and Croatian, among other languages.
Painting success
Gott also received recognition as a painter with a showing in Prague's Christ Child Gallery in 1992. His creations were shown internationally as well, making stops in Berlin, Moscow, and other foreign cities.
Family life
He has two adult daughters from former partners and two young daughters with his current wife, Ivana Macháčková, whom he married in January of 2008 in Las Vegas.
The warm, powerful and mellow voice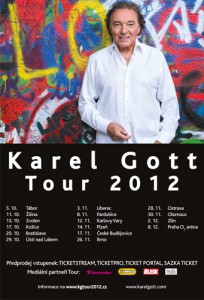 To say that Karel Gott is a legend in the Czech Republic and abroad is an understatement. He has shown great versatility in his ability to take on a pop ballad to traditional music, and he is an astounding interpreter of texts. His warm, powerful and mellow voice has charmed audiences throughout the world.