Prague Spring International Music Festival
By Erin Naillon
The Origins of the Prague Spring International Music Festival
The origins of this festival date back to 1946. At that time, the country was in a justifiably celebratory mood. World War II had been over for exactly one year. Ironically, the Prague Philharmonic celebrated its 50th anniversary that same year. The two events combined into the Prague Spring International Music Festival, now in its 66th year.
Rafael Kubelík
Edvard Beneš, President of Czechoslovakia in 1946, was the patron of the new event. The project was initiated by Rafael Kubelík, chief conductor of the orchestra at the time. This festival concentrated on works by various Czech composers, as well as works by composers from the United States, Great Britain, France, and the Soviet Union. The following year, 1947, a competition was held for the best new talent. This competition has survived to the present day.

Bedrich Smetana – Má vlast (My Country)
Since 1952, the festival has opened on 12 May — the anniversary of the death of Bedřich Smetana — with his cycle of symphonic poems Má Vlast (My Country), and it used to close (until 2003) with Ludwig van Beethoven's Symphony No. 9. In 1956, the Prague Spring International Music Festival was one of the founders of the World Federation of International Music Competitions. This is the acid test for many young talent and has made many successful careers worldwide.
Leonard Bernstein, Luciano Pavarotti, etc.
Among the many famous names who have graced the festival are: Leonard Bernstein, who conducted at the first two years of the festival; Leopold Stokowski; Yehudi Menuhin; Arthur Rubinstein; František Rauch; Natalia Gutman; Jessye Norman; and Luciano Pavarotti.
Before and After the Velvet Revolution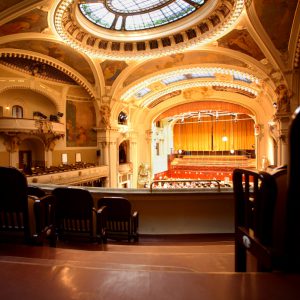 Perhaps the most intriguing and surprising fact about the Prague Spring International Music Festival is that it survived Communism unscathed, emerging triumphantly in the post-totalitarian era following the Velvet Revolution. It is now available to all (who can come to Prague and buy tickets), and the performances are better than ever. Tickets for this year's festival went on sale last December; such is the popularity of the event.
Festival Venues
Many of Prague's most magnificent buildings will host Prague Spring, including the Municipal Building, Rudolfinum, National Theatre, Estates Theatre, and St. Margaret's Basilica. Many of the performances offer barrier-free access to those with limited mobility.
Tickets
Tickets are available online from Ticketpro. For more information and for the times, venues, and ticket costs, go to www.festival.cz/en.