Miloš Forman
By Tracy A. Burns
Forman's Childhood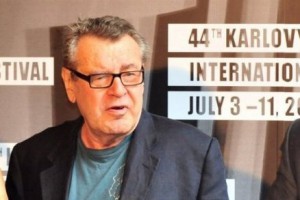 Born in central Bohemia's Čáslav in 1932 to mother Anna, who managed a hotel, and father Rudolf, who worked as a teacher, Jan Tomáš (Miloš) Forman was brought up by relatives in eastern Bohemia's Náchod because he lost his parents at an early age. During World War II, a member of the underground movement told the Gestapo that Forman's father was involved in anti-Nazi activities. Rudolf was taken into custody for handing out banned books. Both parents were transported to concentration camps, where they perished. Forman's brother, 12  years his senior, luckily did not share the same fate. A painter by trade, Pavel emigrated to Australia during the 1968 Soviet invasion of Czechoslovakia that put an abrupt and bitter halt to the liberal reforms of the so-called Prague Spring. While attending the prestigious King George boarding school in Podebrady, Miloš made friends with fellow students Václav Havel and his future screenwriting colleague, Ivan Passer, also a renowned director.
From Czechoslovakia to the 1968 Soviet invasion
After earning a degree in screenwriting at Prague's Academy of Performing Arts, Forman helped scribe two films, Leave It To Me and Puppies, in 1955 and 1958 respectively. He also served as an assistant director to guru Alfréd Radok for Grandfather Automobile. Throughout his career, Forman has played minor roles as well. The director, screenwriter, and professor made a name for himself in 1960s Czechoslovakia with the New Wave films Talent Competition (1963), Black Peter (1963), Loves of a Blonde (1965), and The Fireman's Ball (1967), his first film in color. Bringing to the screen his own brand of unique comedy, Forman focused on reality and everyday life, often using individuals who had no experience in acting to play key roles. Caught in Paris during the crushing of the Prague Spring while negotiating a contract for a production of one of his films to be made in the USA, his Czech employer asserted that he was abroad illegally.

US film success
Forman wound up emigrating to the USA, where he took up the post of professor of film at New York's Columbia University. His movies shot in the USA often deal with themes of alienation and craziness, though his Czech creations touched upon these topics as well. Also, unlike most artists leaving restricted societies, Forman's films did not become "normalized" after he went to Hollywood. His career in the USA has been highlighted by the 1975 adaptation of Ken Kesey's novel One Flew Over the Cuckoo's Nest, which nabbed five Oscars, and the 1984 adaptation of Peter Shaffer's play Amadeus, which won eight Oscars. The People vs. Larry Flynt, about a pornographic publisher, was nominated for an Oscar as well. Other films include the 1979 Hair, adapted from the Broadway musical, 1999 The Man on the Moon, which centered on the life of comedian Andy Kaufman and the 2006 release Goya's Ghosts, based on the life of 18th and 19th-century Spanish painter Francisco Goya. The recipient of numerous awards, including Golden Globes and a Czech Lion for lifetime achievement, Forman is married for the third time, to former model Martina Zbořilová with whom he has twin sons and also has twin sons involved in theatre with his second wife, actress Věra Křesadlová. His first wife was Czech actress Jana Brejchová.
Films made in Czechoslovakia
Forman's first film consisted of two stories shot in 1963. Talent Competition recorded auditions for singers at the Semafor Theatre and involved a montage of various young women singing the same song. The second story, If There Were No Music, highlights an annual brass band competition. Typical of Forman's films, the two stories use non-actors, have a documentary quality, and portray reality, this time the reality of both the harshness and magic of youth. The theme of characters trying to express themselves via music is another trait featured in his other Czechoslovak films, too. Shot the same year, Black Peter depicts the young working-class protagonist, Petr, who escapes from the banality and hopelessness of daily life through music and romance. Misunderstandings with his parents make up significant parts of the film as his father contradicts himself in his banal lectures about morality and sex. Again, Forman used non-actors for many of the roles, and the film's narrative is far from conventional. There is much improvisation, and satire abounds. Loves of a Blonde, from 1965, focuses on a young woman named Angela who works in a shoe factory and sleeps with pianist Milda after a party. Milda returns to Prague and does not contact her, so she goes to his apartment only to find him not at home. In a captivating scene, his parents heatedly discuss whether to let Andula stay the night. When Milda finally returns in the early hours of the morning, Andula realizes that it was a mistake to come to his home and leaves. The film was nominated for both a Golden Globe and an Oscar in the category of Best Foreign Film. In Empire Magazine's 2010 list of the best 100 films in world cinema, this Forman creation came in 89th.
The Fireman's Ball
Forman's last film made in Czechoslovakia, The Fireman's Ball (1967), was inspired by a real fireman's ball that was held in the northern Bohemian town where Forman and his colleagues had retreated to concentrate on writing a script. No actors are used; the firemen in the film are actually firemen from the small town. The film's narrative centers around the annual fireman's ball in a dance hall and involves the firemen trying to pick candidates for a beauty contest. The winner is to present the honorary chairman with an ax. There is also a lottery, but the prizes are stolen. After going through many difficulties to pick the contestants, the young women refuse to participate. The firemen force other females to be the contestants, but then they are called to a fire at an old man's house. The firemen are unable to save the house, and the old man sits outside in the darkness, homeless. The firemen want to give him the raffle tickets, but all the prizes have disappeared. Finally, the honorary chairman is presented with the ax, only to discover that it too has been stolen. This dismal narrative of the reality of socialism portrays the absurdity of life by employing many humorous moments. It has a Chaplinesque quality to it as the movie makes the viewer laugh and cry at the same time. The film ran for three weeks in Forman's native land before being banned after the 1968 Prague Spring.
One Flew Over the Cuckoo's Nest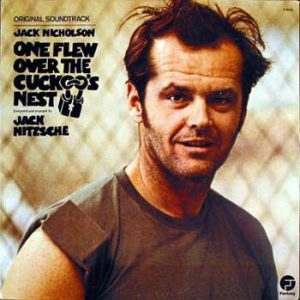 In the USA Forman's greatest successes have been One Flew Over the Cuckoo's Nest (1975), starring Jack Nicholson and Louise Fletcher, and Amadeus (1984), featuring Tom Hulce, Elizabeth Berridge, and F. Murray Abraham. One Flew Over the Cuckoo's Nest nabbed five Oscars: Best Picture, Best Actor in Lead Role, Best Actress in Lead Role, Best Director and Best Screenplay. It was only the second film in history to win all five of those awards. It also nabbed Golden Globes and BAFTA awards. The movie had the honor of being the 20th most significant creation on the American Film Institute's 100 best movies in 100 years list. Also, it was shown in Swedish movie theatres for almost 11 years. Set and filmed at the Oregon State Hospital in Salem and taking place in 1963, the film focuses on criminal Randle McMurphy, who is sent to the institution for an evaluation and winds up being committed indefinitely. He challenges no-nonsense nurse Milfred Ratched, who does not encourage patients to be assertive, but rather belittles them. One of the most memorable moments occurs when McMurphy steals the institution's bus and takes his fellow patients on a deep-sea fishing excursion.  Later McMurphy plans to escape, but during a Christmas party with the patients, he drinks too much and winds up sprawled out on the floor rather than escaping out the window.  After one of his fellow patients commits suicide, McMurphy tries to strangle Ratched and is forced to have a lobotomy.  Indian Chief Bromden, who McMurphy has befriended, notices McMurphy's unresponsive and empty state and smothers his friend with a pillow before escaping.
March 25, 1985 – 8 Oscars for Amadeus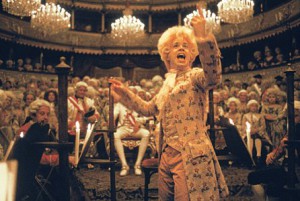 Amadeus was even more successful, nominated for 11 Oscars and winning eight. Overall, it was nominated for 53 awards and nabbed 40 of them, including BAFTA Awards and Golden Globes. In 1998 the American Film Institute put it 53rd on its list of 100 best movies of 100 years. Based on composer Antonio Salieri's fierce jealousy of Wolfgang Amadeus Mozart, the movie was filmed in Prague, the Moravian town of Kroměříž, and Vienna. Some scenes took place in Kroměříž's bewitching chateau while others were set in Prague's majestic Theatre of the Estates, where Mozart's Don Giovanni had premiered. The film begins with Salieri's suicide attempt, as he claims that he murdered Mozart in 1791. The former composer for Holy Roman Emperor Joseph II saw great talent in the young Mozart and was convinced that God was making fun of him and his lack of genius. Salieri decides to play a deadly joke on Mozart by commissioning Mozart to write a requiem that Salieri intends to pass off as his own work. In bad health, the financially distraught Mozart collapses during the premiere of The Magic Flute.  Salieri accompanies Mozart home and persuades him to work on the requiem despite his physical state. When Mozart's wife returns home in the morning, she kicks Salieri out of the house and discovers that Mozart is dead. Salieri is convinced that God is playing a cruel joke on him.
The future?
Miloš Forman has by no means retired from filmmaking. His newest film is The Ghost of Munich, a historical drama centered on the Munich Agreement and based on the novel by Georges-Marc Benhamou. It is slated to come out this year.