The Karlovy Vary Film Festival
By Erin Naillon
The Festival Begins
In 1946, Czechoslovakia started a film festival. At that time, it was held in two locations: Mariánské Lázně and Karlovy Vary. Two years later, Karlovy Vary became the festival's exclusive venue.
The short-lived period of freedom for the festival ended with the Communist takeover in 1948. For more than four decades, the government-controlled matters very strictly. There was a brief time in the 1960s when films outside the Iron Curtain were allowed to be shown, and Communist-related themes were not the order of the day.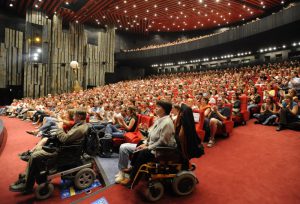 An Open Festival
After the Velvet Revolution, the festival took a back seat. The following year, 1990, films that had been stored in vaults were released for viewing, and stars from the United States (as well as Czech director Miloš Forman) attended, thus bringing much-needed publicity to the festival, which was now truly international.
For the next few years, the festival barely held together. Finally, the Ministry of Culture helped to set up the Festival Foundation; actor Jiří Bartoška became president. Now, the festival is the major event of the year in Karlovy Vary, already a thriving city due to its famed spas.
Success
Awards are given every year for feature films: The Grand Prix Crystal Globe for Best Film, the Special Jury Prize, and the prizes for Best Director, Best Actor, and Best Actress. A Crystal Globe is also given for Outstanding Contribution to World Cinema.
This year's festival will be held July 1 – 9. Karlovy Vary overflows during the season; it's challenging to find a place to stay unless booked well in advance.
For more information, go to the festival website.