Cesky Krumlov Music Festival
By Erin Naillon
Since 1992, the almost impossibly beautiful South Bohemian city of Český Krumlov has hosted an international classical music festival drawing performers and audience members from around the world.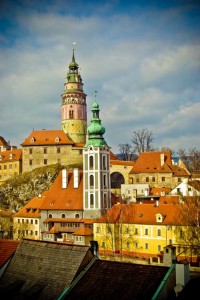 History
The festival came into being in 1992. The Prague-based company Auvieux was in charge of the event, as it has been every year since that time. The first concert was held in the Riding Hall of the Český Krumlov castle, the dominant of the city. By 1995, public response to the festival was so enthusiastic that it was lengthened to two weeks, and concerts were held in more locations. As the years went on, the festival gained more concerts, more performers, and more praise. In the year 2001, the festival – now three weeks long – was devoted solely to Czech artists (previous years had focused on artists from various countries). More venues also opened, allowing attendees to enter areas of the castle that are generally closed to the public.

Flood
In 2002, Český Krumlov fell victim to the floods ravaging much of Europe. In some places, roads were washed partially away; trash washed up on river banks; the high-water mark on buildings fronting the river was at least ten feet high. Local businesses closed for cleanup, with windows and doors wide open to speed the process of drying. Many people connected with the festival banded together to renew the beauty of Český Krumlov, donating money to help rebuild. The festival went on mostly as planned, though some events had to be canceled.
Major Festival
In 2004, a turning point was reached: Due to the immense popularity of the festival, it ran from July to August, approximately a month and a half. This tradition remains, allowing festival enthusiasts an even greater opportunity to attend concerts.
2011 Performances
This year, the festival is studded with jewels to complement the surroundings of Český Krumlov Castle. Plácido Domingo, Tanja Becker-Bender, Arturo Sandoval, and José Cura are among the stars who will delight audiences in various venues. In addition, there will be a Slovak Night and flamenco and tango dancer performances.
Information and Tickets
The festival website (https://www.festivalkrumlov.cz/en) contains all the important information on the program, where to stay, how to get there, and where to eat. Ticketstream is the only source of tickets to the festival; the link is found on the website.