The Five-Petalled Rose Celebrations in Cesky Krumlov
By Tracy A. Burns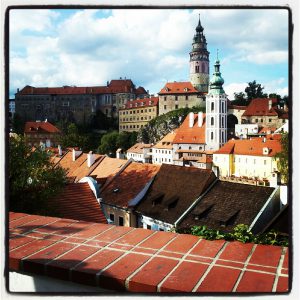 Once again the south Bohemia town of Cesky Krumlov takes visitors back to medieval times this June. The 27th annual Five-Petalled Rose Celebrations run from Friday, June 21 to Sunday, June 23 at various locations in the heart of the town. The festival features knight tournaments, a medieval outdoor market, dancing, medieval music, juggling, fencing, and theatre performances. A period costume procession is another highlight.
The symbolism of the red five-petalled rose
The red five-petalled rose is the symbol of the Rosenberg family who ruled the town for 300 years from 1302 to 1602. It has become the symbol of the castle and town, too. The Division of the Rose legend that is celebrated during this festival involves the medieval owners of the castle dividing their property among their five sons, each receiving a coat-of-arms with a five-petalled rose in a different color. The Rosenberg who received Cesky Krumlov was given the red five-petalled rose that would come to play such a prominent role in the town's history.

On Friday, June 21, the Tavern U Petrova Voka is joining in the celebration as a steward and band prepare a feast for nobility. The show features fencing, dancing, snake charming, juggling, and theatre performances, for instance. A Firelit Procession also takes place in the evening.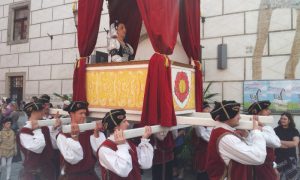 The following day, on Saturday, June 22, 700 noblemen, burghers, jugglers, musicians, and knights on horseback take part in a procession that brings alive the rich history of Cesky Krumlov. A knight tournament follows, and then a live chess performance is on the agenda. People act as the individual chess pieces on a 12 x 12-meter chess board. There are musical performances throughout the town in the evening. At midnight fireworks light up the sky of this romantic and picturesque town. The festival continues on Sunday, June 23, until 3 pm.
Guest performers and unique performances
This year LeGrande Circus, which specializes in children's performances, is adding entertainment to the celebrations with a fire show and other acts. The Wedding Feast of the Rosenberg Court features reenactments of wedding dances with original songs from weddings of the Rosenberg family. The artistic company Komedianti is also performing this year. In the historical marketplace, medieval craftsmen sell their wares. Weavers, woodcutters, potters, and others are showing off their works.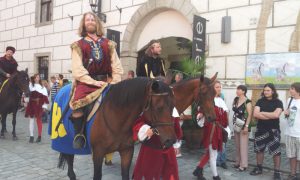 Historical anniversaries
This year the festival is celebrating the year 1253 when Krumlov was first mentioned in a charter by Otakar, the future Bohemian King Premysl Otakar II. Nobleman Vitek of Krumlov witnessed the signing of the charter. Also highlighted is the year 1573 when William of Rosenberg visited Poland and was offered the Polish throne.