The Hot Spring underground tour in Karlovy Vary
By Tracy A. Burns
Karlovy Vary and the Hot Spring (Vridlo)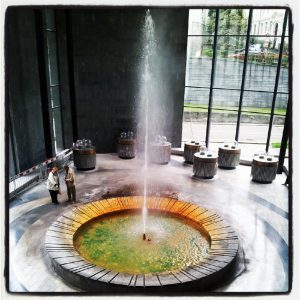 Named after Holy Roman Emperor and Bohemian King Charles IV, the west Bohemia spa town of Karlovy Vary is renowned for its curative springs, such as the Hot Spring, called Vridlo in Czech (72° C). One of the 13 main springs, the Hot Spring belches out 2,000 liters of thermal water per minute, rising to a height of 12 meters. The largest and hottest spring is used for bathing and is also drinkable.
The wrought-iron colonnade
The underground tour takes the visitor under the second colonnade built here, a wrought-iron structure built between 1878 and 1879 by the architectural duo of Ferdinand Fellner and Hermann Helmer, who transformed what had been a Baroque building into a pseudo-Renaissance design. (In the mid-1970s, that colonnade was replaced by a structure made of glass and reinforced concrete, which stands today.) Fellner and Helmer designed over 200 buildings in Europe, mostly theatres. In Karlovy Vary, they also built the theatre, the Park Colonnade, the Market Colonnade, and the Grandhotel Pupp, for instance.

Small explosions of thermal water
During the tour, visitors notice wild outbursts of springs that cannot be totally controlled. Because the springs emit so many tons of minerals each day, sometimes the thermal activity causes explosions. Together all the springs emit 18 tons of minerals each day.
A result of the seeps over many decades
A bizarre-shaped object caused by seeps resembles a tower on a craggy hill. It was created by the gradual settling of minerals in the water over a 40-year period.
How Karlovy Vary souvenirs are made with mineral water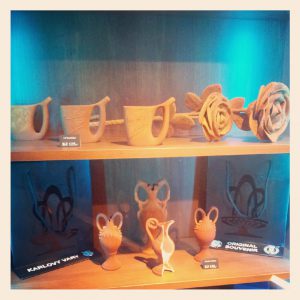 Visitors learn how mineral-covered souvenirs, such as porcelain and the roses symbolizing Karlovy Vary, are created. For seven days the objects take on a brown color as minerals cover them. The souvenirs are placed on three shelves, and water is poured onto them, starting with the lowest shelf and finally reaching the top shelf. Tourists can see the process of making white paper roses into mineral-covered flowers as more and more chalky deposits blanket the object.
The bed of the Tepla River
The tour also takes visitors outside to the bed of the Tepla River. All the thermal water flows into the river. The mineral water from the Hot Spring is distributed to about 20 hotels in the town. There are some sudden spouts of hot water that come up in the Tepla, too.
The model of the Hot Spring
A model in the Hot Spring Colonnade shows the drill holes that are applied to the Hot Spring. The drill holes help the water come to the surface of the Hot Spring in order to prevent explosions. They are 80 meters deep. Some 20-meter drill holes help to control the pressure, too.