Václav Havel
By Tracy Burns
To say that Václav Havel's death on Sunday, December 18 at age 75 marks the end of an era is a great understatement. The last president of Czechoslovakia and the first president of the Czech Republic shaped his nation into a Western-style democracy during a presidency that endured 13 years. Under his leadership, the Czech Republic became a member of NATO (1999), and he greatly contributed to the nation's acceptance into the European Union, though official membership was not granted until 2004, a year after the champion of human rights and moral authority had left the political scene. Havel also holds his place in Czech literary history as one of the country's premier writers, as his plays, essays, letters, poetry, and speeches have made a significant impact.
A fairy tale come true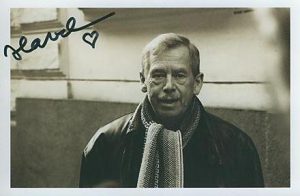 Havel had been arrested by the Communists just two months prior to his election as president of Czechoslovakia in December of 1989 after the Velvet Revolution marked the downfall of the totalitarian regime's hold on the country. The shy, modest man who had spent almost five years behind bars had become a symbol of Czechoslovak freedom and even addressed a joint session of the US Congress in February of 1990.

Political pressures
To be sure, Havel had been no stranger to politics, always speaking his mind, undaunted by the pressures of the Communist regime. Even as a youth, the Communists had targeted Havel, making it impossible for him to continue his studies after 1951 because his family had played a vital role in the political and cultural life of the country during the 1920s and 1940s. Yet he took evening classes and got a secondary education degree. The Communists also did not allow him to study humanities at university, yet he would graduate from the Academy of Dramatic Arts in 1966 after finishing external studies.
Dissident activities and imprisonment
In 1975 the dissident scribed an open letter to the Czechoslovak president Gustav Husák, delineating the problems in Czechoslovak society. In his battle against the rigid normalization era that followed the crushing of the 1968 Prague Spring, he helped forge Charter 77, a written protest against totalitarian oppression. He even became one of the three spokesmen for the Charter. Havel was severely punished for his contribution to the Charter: he was imprisoned, and his works were banned from publication in Czechoslovakia. (Still, his writings received enormous acclaim abroad, even winning him a 1967-1968 Obie Award for his play The Memorandum.) He continued his fight for freedom with the petition "A Few Sentences"  in June of 1989.
From the Velvet Revolution to freedom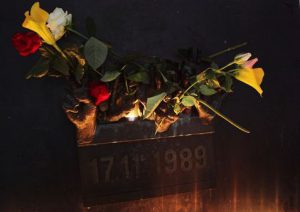 During the student-led Velvet Revolution, triggered by police brutality against a peaceful demonstration on November 17, 1989, Havel organized the Civic Forum, which openly challenged the Czechoslovak political system and called for drastic changes in its execution. His  December 29, 1989 election to president seemed like a fairy tale come true, but there would be disappointments ahead, too, such as the break-up of Czechoslovakia into two countries, the Czech and Slovak republics. Yet his accomplishments were many. To name a few, he was responsible for setting up free elections in Czechoslovakia and contributed greatly to building strong Czech-German relations, especially with the Czech-German Declaration of 1997.
Penning a role in literary history
His career as an author began with the publication of an article in the magazine Květen in 1955 and he produced his first one-act play, An Evening with Family, in 1959. His dramatic career blossomed while working as a stage technician and later as a dramaturg at Divadlo Na zábradlí (The Theatre on the Balustrade). In this small Prague theatre his absurd plays The Garden Party (1963), The Memorandum (1965), and The Increased Difficulty of Concentration (1968) were staged for the first time as the young playwright criticized the misuse of power and addressed issues such as bureaucracy and language. His first book, Protokoly, was printed in 1966 and featured several of his plays and essays.  His job at a brewery in 1964 inspired him to write three plays (Audience, The Unveiling, and Protest) featuring the brewery employee Ferdinand Vaněk. He forged dramas such as Largo Desolato (1984) and Temptation (1985) as the Communists continued to harass him. In Largo Desolato the government tries to force Professor Leopold Nettles to deny a paragraph in his book that could result in arrest or incarceration. The professor struggles with his conscience in this drama inspired by Havel's dissident life. Temptation tackles the Faust legend in a unique way that displays the irrationality of society.
Letters to Olga
His Letters to Olga, penned during his imprisonment in 1979 and the early 1980s, take on very philosophical leanings as he does not let the powerlessness of his incarceration get in the way of expressions of hope and faith. In this book, he writes, "Somewhere in the background of all this, however, is a feeling that I would say is the most profound source of any good mood, for anyone, at any time: that is, the feeling that one's life is fundamentally meaningful and the hope that is implicit within that. It is a joyous identification with life." He also scribed, "It is a kind of paradox…that I of all people, who loves harmony and wants people to like and respect each other, must live my entire life in conflict, tension, and stress. And yet I've never got used to it…"
Literary and film accomplishments after his presidency
After his presidency, Havel continued his writing career, as he penned the play Leaving, inspired by his political tenure. His last drama premiered at Archa Theatre in May of 2008. The following year Havel directed the film version of Leaving for which he had also written the screenplay.
Personal life
His personal life was greatly shaped by the Žižkov-born Olga Šplíchalová, who he met in 1956 and married in 1964. Throughout his many hardships and ordeals, she courageously stood by him and did phenomenal work, especially with charities, during his presidency. She succumbed to cancer in January of 1996. After Havel almost died later that year, he wed actress Dagmar Veškrnová.
Awards and illness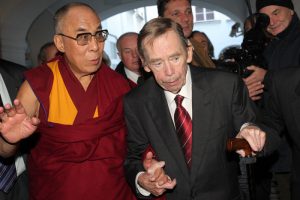 Havel has received numerous awards and honorary degrees for his political and literary contributions as well as for his moral stance. He has even been nominated for the Nobel Peace Prize. During his presidency, many prominent figures visited him, such as The Pope or The Rolling Stones. In December of this year, he met with the Dali Lama in Prague. Havel had been plagued by illness ever since prison life worsened his health conditions.
The most significant figure in Czech history?
Perhaps there has never been a more significant figure in Czech history than Václav Havel. His courageous words and actions inspired the country to live in freedom and find an independent national identity. Life in the Czech Republic without Havel is hard to imagine, yet his contributions to the country and the world live on.