Milada Horáková, Executed by the Communists
By Tracy A. Burns
June 27, 1950: the execution of Milada Horáková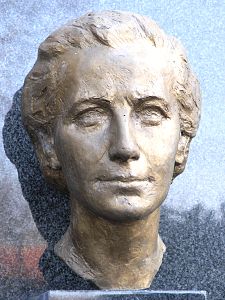 A champion of women's rights and democratic principles, Milada Horáková was executed by the Communists on June 27, 1950, at 5:35 a.m. in the courtyard of Prague's Pankrác prison. Her opinions and criticism of the regime had made her a target for the Secret Police, who put her in prison on trumped-up charges of conspiring to overthrow the republic. A show trial, reminiscent of those during the Great Purges of the 1930s in the Soviet Union and enforced by Soviet advisors, ensued. Each defendant was ordered to read from a script during the debacle that was broadcast over the radio. Horáková defended herself instead. She and three of the 12 others received the death penalty. Though international figures such as Albert Einstein, Winston Churchill, and Eleanor Roosevelt protested the sentence, Czechoslovak Communist President Klement Gottwald would not grant her amnesty. Horáková's hanging marked the death of an anti-Nazi and anti-Communist fighter who had fervently fought for democracy and the ideals of first Czechoslovak President Tomáš G. Masaryk.
From childhood to marriage
Born Králová, the future feminist was born on Christmas Day in 1901 as the second child of a Vinohrady-based Prague family. Her father, a salesman, supported Masaryk and took an anti-Austrian political stance. Horáková suffered hard times in her personal life as well as during her political life. Both her older sister Marta and her younger brother Jiří succumbed to scarlet fever in 1914. A year later, her mother gave birth to Věra, whom a young Horáková would help look after. Strong-willed, she took part in an anti-war demonstration during her high school days and was expelled. Later, she did obtain a diploma from another school in Prague. Horáková joined the Red Cross, where she met the President's daughter, Alice Masaryk. During the early 1920s, she won her own battle with scarlet fever. On the steps of the Rudolfinum, then serving as Parliament, Horáková met Senator Františka Plamínkova and became her assistant and later close friend. In 1926 she graduated in law from Prague's Charles University, and the following year she married the agrarian economist, Bohuslav Horák. They had a daughter, Jana, in 1933.

After university through the Munich Agreement of 1938
After university, Horáková worked with the Prague City Council and Women's National Council, preparing legislative proposals supporting women's rights, such as the equality of women in society and social issues. For instance, she insisted that women be hired for jobs due to their qualifications and their quality of work. In 1929 she joined the anti-Nazi Czechoslovak National Socialist Party. She also traveled to many European countries, such as England, France, and the Soviet Union, where she gave lectures. Horáková helped refugees move from the German-occupied Sudetenland to the interior of the country after the Munich Agreement ceded the Sudetenland, where there was a German majority, to the Third Reich in 1938.
Under the Nazi Occupation: resistance and incarceration
Shortly before the Occupation, she was forced to leave the Prague City Council. During the Occupation she joined the resistance group We Remain Faithful, finding secret housing for illegals and passing on information to an espionage agency. On August 2, 1940, she and her husband were arrested. Although the Nazis used brutal interrogation methods, she did not reveal any information. For the next two years, she was imprisoned in Prague. After the governor of the Protectorate of Bohemia and Moravia, Reinhard Heydrich was assassinated in 1942, she was transferred to the Terezín concentration camp in central Bohemia. There, she met up with Plamínkova again, though the former senator was executed in 1942. Horáková's husband had been sent to Terezín, too, but the couple was not allowed to meet. In October of 1944, she was tried and sentenced to the death penalty, but a Dresden court changed the decision to eight years' incarceration. When the US army liberated Horáková, she was in a concentration camp in Germany.
Back in politics from 1945 to the Communist coup of 1948
In 1945 she was reunited with her husband. Czechoslovak democratic President Edvard Beneš convinced her to return to the Czechoslovak National Socialist Party, and she became a member of Parliament in 1946, a post she would hold until the February 1948 Communist coup. After joining the Union of Friends of the Soviet Union, Horáková realized that Czechoslovakia had to solidify its relations with the West in order to fight against the Premier of the Soviet Union, Joseph Stalin. She also chaired the Council of Czechoslovak Women and served as deputy chairperson for the Union of Liberated Political Prisoners. Horáková worked with several publications, including Vlasta, still an influential magazine today. As the Communists gained power in February of 1948, Horáková rallied citizens to support Beneš, but on February 25, 1948, the day the Communists took over, she was expelled from all organizations.
The arrest and her trial
Although Horáková had the opportunity to flee abroad, she decided to remain in Czechoslovakia and continue to support democratic ideals. While working with illegal political organizations and maintaining contacts with exiled politicians, she was arrested in September of 1949 on a fabricated charge of conspiring to overthrow the totalitarian government. The Communists beat her and psychologically bullied her, but she did not give in. Her trial began May 31, 1950, and the 48-year was one of three to receive the death penalty on June 8, 1950. She was the last of the four to be executed on June 27, 1950.
Her family
Her husband hid for two months after Horáková's arrest, then fled the country and finally emigrated to the USA, where he died in 1976. Horáková's daughter Jana was brought up by her sister Věra, but she was not allowed to study. Jana joined her father in the USA in 1968.
Honored in memoriam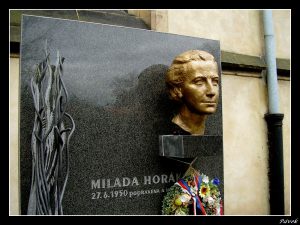 As of 2000 Horáková has had a symbolic grave at Prague's Vyšehrad Cemetery, though the whereabouts of her urn is unknown. Horáková's remains were never returned to her family. In 1990 she was fully rehabilitated, and the following year Czechoslovak President Václav Havel awarded her a First Class Order Tomáš G. Masaryk medal in memoriam. Later, Horáková received other awards as well. As of 2004, June 27, the day of her death, is The Day of Remembrance of Victims of the Communist regime.