Emil Škoda: Czech entrepreneur during Habsburg rule
By Tracy A. Burns
From childhood through military service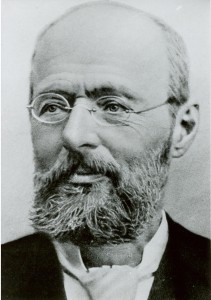 Thanks to this prominent and industrious Czech entrepreneur, Škoda Works (now Škoda Transportation) became the largest industrial business in the Austro-Hungarian Empire and later in Czechoslovakia. The future technical expert was born the first of seven children in the west Bohemian town of Pilsen on November 19, 1839, when Czechs were subjects of the Austrian monarchy. His father František Škoda was a leading figure in the community, working as a doctor and health administrator, for instance.  His mother died of pneumonia in 1854. After attending a German high school in the west Bohemian town of Cheb, Škoda spent four semesters focusing on mechanical engineering at Prague's Hornická Technical College, though he finished his degree at a technical college in Karlsruhe, situated in what is today southwest Germany near the Franco-German border. Škoda served as a volunteer in the Austrian military during 1859 and was stationed in Italy during the Austro-Sardinian War. He returned to his homeland with a chronic stomach ailment from which he would suffer throughout his life.
Traveling and working for Waldstein
Then Škoda traveled to France, England, the USA, and Prussia, from which he was expelled when the Austro-Prussian or Seven Weeks' War broke out in 1866. That same year the brilliant businessman became head engineer of the Pilsen industrial plant owned by Count Waldstein-Vartenberk. During 1869 Waldstein sold Škoda the factory.

Initial success and expansion
Under Škoda's guidance, business took off, as the enterprise expanded and modernized. Before long, some 4,000 workers and 200 technicians were employed. A determined Škoda built a new foundry, plant, forge, railway system, and steel mill that blossomed into one of the most prominent manufacturers of steel in Europe. A crane could carry up to 20 tons. In 1886 the plant smelt 4,000 tons of steel while by 1899 workers had smelt more than 7,000 tons.
More than just steel
The engineering enterprise was not only interested in steel, however. The company supplied sugar refineries with equipment in the Balkans, Poland, Ukraine, Russia, and other places. Škoda even opened a branch in Kyiv, where 22 people were employed. By 1878 Škoda Works was manufacturing equipment for 25 sugar refineries and 11 malt houses and breweries, to name a few.
Adapting to uncertain times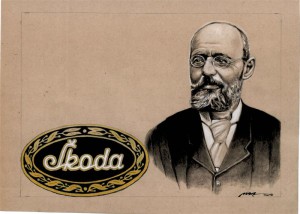 Škoda knew how to adapt to the changing and uncertain times, foreseeing the necessity to invest in arms production. In 1884 his modern steelworks manufactured steel castings weighing dozens of tons and later created forgings for both passengers and warships. During 1890 the factory's output was more than impressive. It produced 149 boilers, 52 steam engines, 190 pieces of equipment for mines, 12 machines for mills and bakeries plus 1,867 machines for refineries, breweries, and distilleries, among others. In 1896, when Škoda constructed a new arms facility, his enterprise became one of the largest manufacturers of weapons in Europe. Yet weapons were by no means his only concern. The factory also supplied equipment to bakeries, brick factories, sawmills, and gasworks. Škoda Works produced water pumps, water mains, and many other products.
Personal life
To say that Škoda possessed a talent for the organization is an understatement.  He was blessed with business acumen. His work consumed his life, and he often pulled all-nighters to get a job done. As regards his personal life, he married the daughter of a rich Pilsen-based entrepreneur in 1871, and they had four children, including three daughters.
More changes
Shortly before his untimely death, Škoda realized that the era of private ownership was coming to a halt. He formed what would be a very successful joint-stock company on December 12, 1899. Škoda remained president and general manager.
Death
The admirable entrepreneur died on August 8, 1900, from the stomach ailment that had plagued him since the war. When he passed away, he was on a train near Selzthal, Styria in what is today southeast Austria. Škoda is buried in Pilsen's Mikuláš Cemetery. His funeral drew crowds from his hometown and beyond. His son Karel inherited the company.
Continued success
The company continued to blossom even after Škoda's death. During 1901 the factory concentrated on weapons, producing 210 machine guns, 430 cannons, howitzers, and mortars; 520 gun carriages; and 80,000 rounds of ammunition. Before World War I Škoda Works made a name for itself as the largest arms producer in the empire. It even provided piping for the Niagara Falls power plant and for the sluices of the Suez Canal. During 1917 some 35,000 people worked for the Pilsen branch of the company. After World War I Karel sold Škoda Words for less than it was worth and took off with his family to Vienna.
Expansion in Czechoslovakia
After the birth of Czechoslovakia in 1918, the enterprise expanded, manufacturing steam locomotives, aircraft, ships, steam turbines, and more. Arms manufacturing took off again in the tense, political turmoil of the late 1930s when Škoda Works made the world's first triple-barreled gun turrets and manufactured Panzer 35 (t) and Panzer 38 (t) tanks.
Company during the Communist era
After 1945 the company was nationalized. During the Communist era, it focused on production in the Soviet Union and other totalitarian countries. After 1962 the enterprise became a leading tram or trolley bus manufacturer. In 1978 Škoda Works was transformed into a group of businesses owned by the government.
After the Velvet Revolution
After the fall of the Communist regime in 1989, the enterprise was privatized. It became Škoda Holding a.s. in 2000. Now the manufacturer is concerned only with transport as it makes trams, electric locomotives, and rapid transit train systems. The business empire that Emil Škoda built still flourishes.