The Historical Underground in Pilsen
By Tracy A. Burns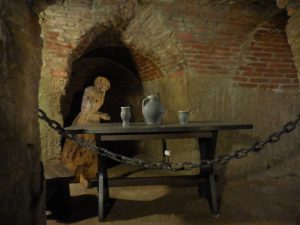 There is much more to west Bohemia's Pilsen than its tasty beer. Touring the historical underground cellars is a highlight of this town. Visitors explore 800 meters of passages below the center and learn about life during the Middle Ages.
The purposes of the underground areas
The three floors of cellars hail from the early 14th century when the first houses that obtained the privilege of brewing beer had them constructed. The underground areas served many purposes. The pubs above them served customers there after mandatory closing hours. The cellars served as storage spaces for food, and beer was brewed there. They also played a major role in the defense of the city during attacks as inhabitants fled there for safety.

Pilsen's coat-of-arms
Tourists see 20 wells and learn about Pilsen's coat-of-arms, which shows a greyhound, angel and camel. The camel became a symbol thanks to events that transpired during the Hussite Wars of the 15th century. The Hussites tried to frighten the inhabitants of Pilsen with a camel, but without success. The inhabitants of Pilsen adored the camel and kept it. The Hussites were forced to leave. Visitors also learn what the three contemporary fountains – shaped as a "T," an "F" and a Greek letter – on the main square represent.
Eating habits in the Middle Ages
The guide will explain the eating habits of medieval residents. Those in poverty had ceramic tableware and mostly ate vegetarian food because meat was too costly. The wealthy savored meat and spices. They used glass, metal and silver tableware. The rich ate with their hands but used knives to cut meat. They were afraid to use forks because this utensil reminded them of pitchforks.
Other highlights of the tour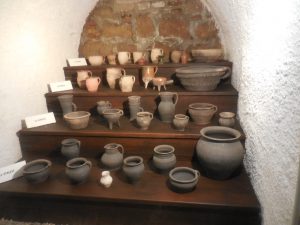 Ceramics from the 14th to 17th centuries are on display, and you will learn the role book publishing and guilds played in the town's medieval history. Don't overlook the cannonballs used by the Hussites – they each weigh 200 kilograms. A functioning water wheel is a replica of one built in 1532. The remains of a water tower that was important to the town's defense system date back to 1847.
Practical information
The box office is at the Brewery Museum, another intriguing sight. With your ticket, you receive a beer voucher for a 0.30 l of Pilsner Urquell beer, valid in three pubs downtown. The tour, which can be booked in English, takes approximately one hour. Tickets can be reserved online.