Tomáš Baťa – founder of the Baťa Shoe Company
By Tracy A. Burns
April 3, 1876: a future entrepreneur is born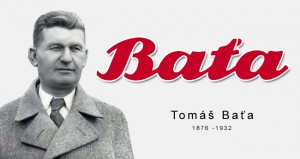 Born April 3, 1876, in the southeastern Moravian town of Zlín, Tomáš Baťa would become a leading entrepreneur in a family that boasted a long and productive history in shoemaking. His family had been making shoes since 1667. In addition to setting up shoe factories around the world, Baťa served as the town's major and gave Zlín an impressive makeover. His interests were not limited to shoemaking, either. Though Baťa died in a plane crash in 1932, Baťa Shoes remains successful to this day.
Childhood and initial attempts of Tomáš Baťa in the business world
The third child in the family, Tomáš encountered tragedy at an early age, losing his mother when he was only 10. Two years later his father remarried and moved the family to Uherské Hradiště, where school instruction was in German instead of Czech. He became a shoe businessman at age 14 when he left home to Prostějov, where he worked for the company Fäber, which made shoemaking machines. Later he returned home, only to leave again, this time traveling to Vienna, where his sister Anna lived and helped support him financially. It was in Vienna that he started his own business, but he finally returned to Uherské Hradiště to work with his father.

The birth of the T. & A. Baťa Shoe Company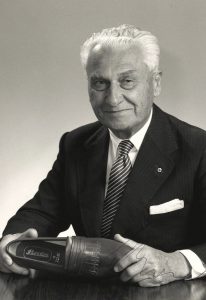 The T. & A. Baťa Shoe Company was spawned in August of 1894 in Zlín with the help of Tomáš's brother Antonín and his sister Anna. Tomáš invested what amounted to approximately 320 USD in order to launch the business. When the company was started, there were 10 full-time employees who had to work a fixed work schedule for a regular weekly wage. This kind of management was very unique in its day. But in the summer of 1895, Tomáš found himself face-to-face with almost insurmountable financial difficulties, and debts abounded. To overcome these serious setbacks, Tomáš decided to sew shoes from canvas rather than from leather, and this type of shoe became very popular. By 1897 Tomáš had paid back all the company's debts. When Tomáš's brother Antonín became seriously ill, Tomáš took over the business of making canvas and felted wool footwear.
Lessons from the USA
Baťa spent time in the USA learning management techniques and wage systems. Energized by the American system of management, he returned to Zlín a year and a half later and had his employees take part in the profit and loss of the company and gave them the chance to earn bonuses. If they worked badly, they had to pay a fine that would come out of their wages. The employees went on strike, so Baťa fired them and hired new help.
Housing estates and military footwear
A determined Tomáš took over the company when his brother died and his sister married in 1908. Three years later he started to build housing estates for his employees. (By 1932, there were 1,564 houses for his staff in Zlín.) Soon wedding bells sounded for Baťa as he married the daughter of a caretaker of a Vienna-based court library. Their only son, Tomáš II, was born two years later.
The firm took off during World War I, when it received commissions to manufacture 50,000 pairs of military shoes. From 1914 to 1918 the number of Baťa's employees increased ten times. The company opened its own stores in Zlín, Prague, Liberec, Vienna, and Pilsen, among other towns.
From financial duress to financial success
When the war ended, Baťa Shoes no longer needed to produce military shoes and suffered financially. To combat the strikes triggered by the birth of the Communist Party, Baťa lowered prices by 50 percent and wages by 40 percent but gave his employees certain discounts. Baťa's cheap shoes began to take over the market. In 1923 his company boasted 112 branches.
A booming business and the fourth richest person in Czechoslovakia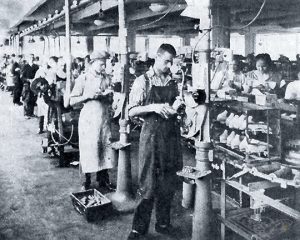 In 1924 Baťa displayed his business acumen by figuring out how much turnover he needed to make with his annual plan, weekly plans, and daily plans. Baťa utilized four types of wages – fixed-rate, individual order-based rate, collective task rate, and profit contribution rate. He also set what became known as Baťa prices – numbers ending with a nine rather than with a whole number. His business skyrocketed. Soon Baťa found himself the fourth richest person in Czechoslovakia. From 1926 to 1928 the business blossomed as productivity rose 75 percent and the number of employees increased by 35 percent.  In 1927 production lines were installed, and the company had its own hospital. By the end of 1928, the company's head factory was composed of 30 buildings.
Educational organizations, the shoe museum, and factories abroad
Then the entrepreneur created educational organizations such as the Baťa School of Work and introduced the five-day work week. In 1930 he established a stunning shoe museum that maps shoe production from the earliest times to the contemporary age throughout the world. By 1931 there were factories in Germany, England, the Netherlands, Poland, and in other countries.
Serving as mayor and rebuilding a modern town
His achievements went way beyond shoe production. The mayor of Zlín from 1923 to 1932, this philanthropist accomplished a great deal for the town's educational system, introducing reforms in the public schools and experimental types of learning. He built seven new schools between 1924 and 1932. Baťa also made Zlín into a modern town, constructing large, residential suburbs from 1918 to 1932 and redoing the historical center in 1929. Baťa expanded his interests even more. He also had stakes in tanning, agriculture, newspaper publishing, railway, and air transport, textile production, coal mining, and aviation realms.
Baťa's sudden death
In 1932 Baťa Shoes was represented in more than 60 countries. On July 12, 1932, Tomáš Baťa and his pilot died in a plane crash on their way to an opening of a branch in Switzerland. Even though the plane was delayed due to fog, Baťa insisted on taking the trip.
The Baťa name and legacy continue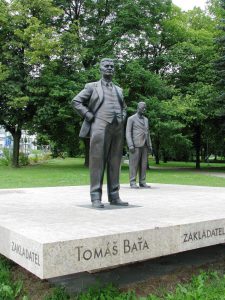 After Baťa's death, his stepbrother Jan Antonín Baťa bought the company Baťa a.s. Zlín continued to proudly assert the Baťa name. The Baťa skyscraper came into being in 1938, and his stepbrother aided the town with other building developments as well. In 1934 Baťa Shoes opened a shoe factory in Bagdad, Iraq and in 1940 it christened another in Indochina, which later became Vietnam. While Tomáš had employed 120 people in 1900, by 1938 the number of employees had skyrocketed to 65,100. Jan Antonín also established the Zlín aircraft works in 1934. When the Nazis marched into Prague, he escaped to the USA and eventually chose Brazil as his home. Tomáš Baťa's son, Tomáš J. Baťa (Thomas J. Bata), fled in 1939 to Canada, where he carried on the shoemaking business with the Bata Shoe Company of Canada in a town named after his family – Batawa, Ontario.