Football in Terezin during the Nazi Occupation
By Tracy A. Burns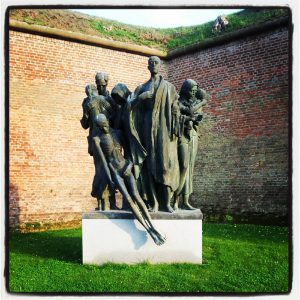 The Small Fortress in Terezin will host an exposition focusing on football (American soccer)played there from 1942 to 1944 when the town was under Nazi control as a Jewish ghetto-transit camp and Gestapo prison. The exhibition will be held from May 29 to July 31 in the exhibition space of the Small Fortress'  third courtyard. The opening ceremony takes place on May 29 at 12:30 pm.
While Terezin was under Nazi control during World War II, both amateur and professional football players who were imprisoned there competed on seven-member teams. The majority of these athletes died in concentration camps. The exhibition aspires to highlight the horrors of the Holocaust as well as the spiritual strength and bravery of the prisoners who searched for a sense of humanity despite their tragic plight.

During World War II about 155,000 Jews were brought to the Terezin ghetto. Approximately 87,000 were deported to concentration camps farther East, while about 34,000 died in the ghetto. Of the more than 10,500 children who lived in the ghetto before being deported East, only 245 survived the war.