World War II Memorial in Prague: Operation Anthropoid
By Tracy A. Burns
The heroes and Operation Anthropoid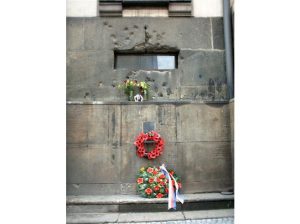 The Cathedral of Saints Cyril and Methodius in Prague's New Town paid homage to the seven parachutists who died during June 18, 1942, fierce battle with Nazi troops. The World War II heroes were targeted by the Nazis because they had assassinated high-ranking official Reinhard Heydrich as the patriots carried out Operation Anthropoid, one of the most significant acts of resistance in Czechoslovak history. Every year since 1945, the cathedral has held a memorial service on the date of the resistance fighters' deaths.
The memorial service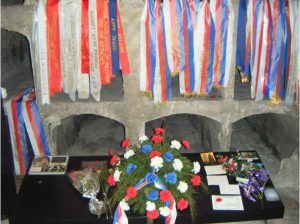 The memorial and prayer service included a military funereal march. Participants also lit candles in the crypt and placed wreaths and flowers there. Representatives from the Ministry of Defense, the Czech Federation of Fighters for Freedom, and the Czechoslovak Municipality of Legionaries as well as descendants of the deceased and veterans of World War II were in attendance, among others.

The resistance fighters' last stand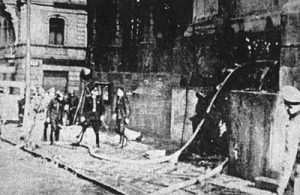 The Nazis were able to track down the seven patriots hiding in the church after resistance fighter Karel Curda betrayed them. While three of the fighters were killed in the prayer loft, the other four were hiding in the crypt, where, only armed with small-caliber pistols, they battled bravely against more than 700 Nazi troops. The Nazis tried to smoke them out and flood the crypt. Instead of surrendering after a lengthy gun battle, the four committed suicide. Bullet holes can still be seen on the church's walls.
History of the cathedral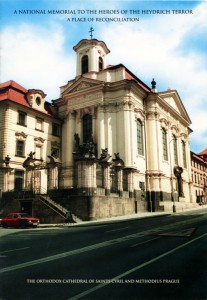 The Cathedral of Saints Cyril and Methodius now serves as the main house of prayer in the Orthodox Church of the Czech lands and Slovakia, but it has its roots as a Roman Catholic church. Constructed between 1730 and 1736, the cathedral is the work of legendary Baroque architect Kilian Ignaz Dientzenhofer, who also designed the Church of St. Nicholas and the Goltz-Kinsky Palace in Prague's Old Town Square, among other buildings.