Valtice Chateau: Baroque Beauty in south Moravia
By Tracy A. Burns
History of Valtice Chateau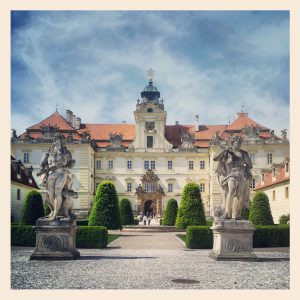 Valtice's history goes all the way back to the 11th century when a fortification stood in what was then a settlement. The Liechtenstein family came into the picture as far back as 1395 and would hold on to Valtice Chateau until 1945. During the 1660s the clan made Valtice their main residence. The chateau originated in the 17th century, built in the Mannerist style. It later took on a Baroque appearance. Much construction took place during the 18th century. For example, the stunning chateau chapel was completed in 1729. At the end of that century, the chateau theatre was built.
History from 1945 to the present
After World War II the chateau was plundered. Soviet prisoners of war were shot on the grounds. Then the chateau was used as a storehouse. Since that time its beauty has been restored, and Valtice Chateau even made the UNESCO World Cultural Heritage List in 1996.

The Chateau's façade and interior
Two Baroque statues of Hercules welcome visitors in front of the chateau, which has a façade rich with sculptural decoration and other ornamentation. The chateau boasts original furniture from the second half of the 18th century. Baroque and Rococo furnishings fill the rooms. Ceiling paintings with mythological motifs appear throughout the chateau. The Dining Room, the biggest space in the chateau, features imitation marble on the walls and reliefs of musical instruments above the doors. An 18th-century Rococo chandelier and Empire-style side tables also capture visitors' attention in that space.
The chapel and other rooms
The chapel is one of the most remarkable examples of Baroque architecture in Central Europe, with such rich sculptural adornment and an exquisite ceiling painting. The elegant Social Drawing Room is lined with red wallpaper and features superb red furnishings. The Olympic gods make an appearance in the remarkable ceiling painting. The Marble Hall features walls of imitation grey-and-pink marble as well as impressive paintings. A 15th-century work, the oldest in the chateau, shows Christ on the cross. The Picture Gallery astounds as well. Be sure to admire the ceiling painting of Artemis returning from
the hunt in that space, and take a look at the wood paneling and ceiling painting in the Mirror Hall.
The park
The park was constructed in the middle of the 18th century. During those days the park boasted a gloriette and other architectural objects. It was extended during the 19th century. Though the architectural objects have long since disappeared, many varieties of trees, bushes and flowers can be found in the park. The Area of Lednice and Valtice South Moravia offers many remarkable sights, and the area of Lednice and Valtice is no exception. Nearby is Lednice Chateau, with its distinctive neo-Gothic look and its extensive park featuring a minaret and Jan's Castle, a 19th-century model of a Romantic castle ruin. Temples, manor houses, and a colonnade also grace the area of Lednice and Valtice.