New Year's Eve in the Czech Republic
By Erin Naillon
Getting Ready
Fireworks go on sale early in December for a Czech New Year. This holiday is one of the country's best reasons to set off massive, elaborate fireworks displays – and with the short days and long nights, everyone can take full advantage of many hours of darkness, though pyrotechnics are set off during the day as well. Sparklers, firecrackers, and other enjoyable fireworks are available for sale in many stores.
Silvestr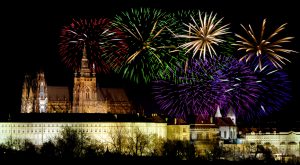 "Silvestr" is the Czech word for "New Year's Eve". It is taken very seriously – and joyously – throughout the country. Toasts are given early, continuing through the day. In Prague, taxis are virtually impossible to find. (The Czech Republic has very strict drunk-driving laws. If anyone has consumed even one beer, it is illegal for that person to drive.) People gather everywhere, in public as opposed to the home-centered Christmas celebrations. For those visiting Prague during this time, be aware that the streets, buses, trams, and metro will be very crowded, and as stated above, taxis are almost nonexistent. On the other hand, the party is anywhere and everywhere!

At midnight, the fireworks take over. Private and public displays become one, and the sky is alight with showers of multicolored sparks. This isn't the end of the party, though; far from it! The celebrations continue until sleep, dawn, or both. It is a sight not to be missed.