A Czech Christmas
By Erin Naillon
Christmas is one of the major holidays in the Czech Republic. Enchanting Christmas markets spring up everywhere in cities and towns; decorations and lights hang from buildings; tourists come from various countries just to experience the atmosphere.
A Fishy Holiday
For many years, the traditional Czech Christmas dinner was carp. The fish are raised in ponds in South Bohemia, then sent (live) to markets around the country. Even now, a large container of live carp is a common sight at Christmastime; the customer chooses one of the fish, and it is killed, gutted, and packaged. Alternatively, the customer can buy a live fish and take it home to be killed later. The carp was served breaded and fried, with homemade potato salad. In recent years, however, the appeal of a carp Christmas has declined, and Czechs are celebrating with different kinds of food.

Christmas Markets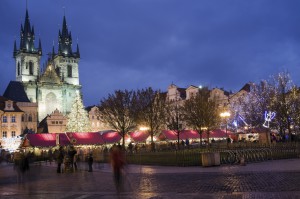 The markets offer all sorts of Christmas goodies. Mulled wine is always a big hit; other stalls sell sugared almonds, cheese, knitted wear, decorations, jewelry, toys, roast chestnuts, Prague ham, and more. A relative newcomer to the market scenes is the stalls selling fair-trade products. Much of one's cookie shopping can be done here, if you'd rather not bake cookies yourself, or if time is an issue.
As the years go on, the markets become bigger and more elaborate. Prague's Old Town Square has a large market, as do Namesti Miru and Namesti Republiky. The Old Town Square boasts a gigantic tree, the lighting of which is an event in and of itself. A large stage is set, with live performances all day, every day. This is serious business!
Christmas Day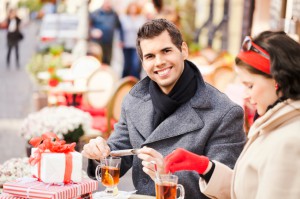 Christmas is celebrated on December 24 in the Czech Republic; this is Štědrý den, or "Generous Day". This is the day when gifts are exchanged, though businesses tend to be open in the morning, until approximately 2 p.m. The traditional Christmas meal of carp and potato salad is eaten, then a bell is rung to signify that Ježíšek – the Baby Jesus – has brought the presents. (In the Czech Republic, it is Ježíšek who brings the gifts, though Santa is beginning to make his presence felt.) Children are then free to make a beeline for their presents. During the totalitarian regime, the Soviets attempted to foist a Russian Christmas character upon the Czechs. This kindly gent, known as "Grandfather Frost", held a position similar to that of Santa Claus. Grandfather was thoroughly rejected in the country, and now, the Czechs are waging the same sort of battle against Jolly Old St. Nicholas. While they have no objection to Santa Claus being the center of holiday celebrations in other countries, the tradition here is for Ježíšek to bring presents to children. The Czechs are proud of their traditions and do not want to watch them eroded by those of other cultures.
December 25 and 26 are part of the celebration, so don't expect to find anything open on these days. Taking a long walk to work off holiday excesses is a good idea during this slow time. During the season, some traditions are observed, such as an unmarried woman throwing a shoe over her shoulder. If the toe of the shoe points towards the door, she will marry soon. An apple will be sliced crosswise as a method of divining the future. A perfect star means that the upcoming year will be a successful one. A cross signifies death. A less-than-perfect star means illness or misfortune in the year to come.
Just as one is recovering from the Christmas joy, the whole thing starts again with Silvestr (New Year's Eve).