Czech Easter
By Erin Naillon
Easter (Velikonoce in Czech)
Easter is a very special holiday in the Czech Republic. The entire country erupts in a blaze of color – intricately decorated eggs, woven willow sticks with crepe tassels, dancers in traditional costumes performing folk dances.
After the snow and ice of winter, it's more than understandable that the coming of spring should be celebrated in grand style. The Easter traditions are more about the pagan roots of the holiday than about the Crucifixion and Resurrection, and everywhere one looks, one can see proof of this.

Willow sticks and Easter Eggs

The everpresent willow sticks (called "pomlázka" in Czech) are one such tradition. They are available for sale everywhere on the days just before the holiday. Boys and men buy them, then use them to lightly whip the legs of the girls and women they like. Rather than being cruel, the meaning behind the act is that the girls and women will enjoy good health for the rest of the year. In addition, the hope is that the females will always be as supple and young as the willow branches. The rest of the tradition dictates that the girl/woman gives the boy/man an egg – or if they are older, a shot of plum brandy. This is an Easter Monday occurrence.
The custom of decorating Easter eggs has been taken to an art form here. Hollow, decorated eggshells with holes cut in them are available for sale, as are eggs with decals showing well-known areas of Prague. Many of the eggs hang by a ribbon; while most are real eggs, some are made of wood.
Easter Markets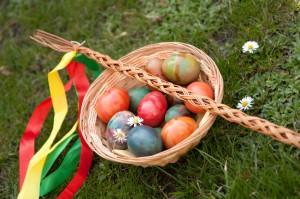 Easter markets spring up everywhere, with willow sticks, eggs, roast ham, and gingerbread among the many items for sale. Prague's Old Town Square offers a large stage with live performances as well; folk dancers, folk singers, and other acts entertain the audience in the Square, free of charge. For children, there is a petting zoo with a donkey, sheep, and goats. A few rabbits occupy a cage within the animals' pen. Women sit at Easter egg stalls, carefully painting more eggs to sell. Rather than confining themselves to Easter weekend, these markets usually run for two weeks before Easter and one week after it.
The Czechs go all-out with the desserts on Easter. Sweet yeast bread dominates, usually in the shape of lambs. Hot cross buns are popular, as is the "Jidáš" (Judas) bun; this is decorated with a spiral that is meant to represent the rope with which Judas hanged himself after betraying Christ. A confection that is part bread, the part cake is the "mazanec", sweet bread with raisins.
In almost every way, Easter is more for the men than for the women – unless the custom of whipping women (sometimes not so lightly) is expanded so that the women can whip the men, too.