Opera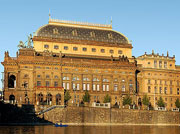 Prague National Theatre
Alma Mater of Czech Opera, national monument of Czech history and art. The National Theatre in Prague helped to preserve and develop the most important feature of the nation – the Czech language. Today the National Theatre consists of three artistic ensembles – opera, ballet, and drama – which alternate in their performances in the historical building of the National Theatre, the Theatre of the Estates, and the Theatre Kolowrat. Address: Národní třída, Praha 1.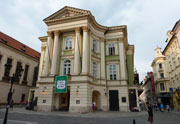 Theatre of the Estates
Also called Nostitz Theatre or Tyl Theatre. One of the most beautiful historic theatre buildings in Europe was built by Count Nostitz Rieneck in 1783. W. A. Mozart himself conducted the world premiere of his Don Giovanni here in 1787. One of the stages of the Prague National Theatre. Address: Ovocný trh 1, Praha 1.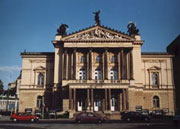 Prague State Opera
The Prague State Opera resides in the building, which was opened as a Prague German stage with the performance of Wagner´s opera, The Mastersingers of Nürnberg, on January 5th, 1888. With its spacious auditorium and neo-Rococo decoration, this Theatre building is among the most beautiful in Europe. Among the exceptional artistic figures who performed here were directors Gustav Mahler, Richard Strauss, Felix Mottl, Arthur Nikisch, Felix Weingartner, and others. Address: Legerova 75, Praha 1
Book Your Prague Opera Tickets Now
Most updated Prague opera schedule
You don't pay any reservation fees to us
Credit card payment is possible
BOOK YOUR TICKETS NOW (you will be forwarded to our partner's website)