Vyšehrad Cemetery
By Erin Naillon
Vyšehrad Cemetery is a veritable Who's Who of the Czech art scene. This relatively small, but very impressive, the burial ground is the final resting place of many famous Czech artists.
History of Vyšehrad Cemetery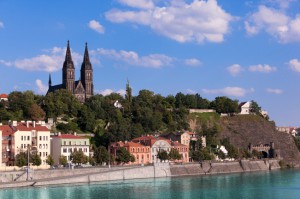 The cemetery was established in the 15th century, next to the Church of Saints Peter and Paul. As the centuries passed, the landscape changed; walls were added in 1660, and an arcade – a beautiful work containing the tombs of many famous Czechs – was created.

In the 19th century, the Svatobor Association, which cares for monuments to Czech writers, received money from the mayor of Prague's Smichov district to build a vault. Construction started on September 7, 1893, and the vault received its first resident in 1902. Author Julia Zeyer received this posthumous honor.
In 1961, the City of Prague took over the administration of the vault. The city took less care of the monument than Svatobor had, and in 1982, it was condemned. In 1990, Svatobor sought to regain control of the vault, but the only thing that could be done was to lease the vault from the city at a token price of one Czech crown per year, for 99 years. No repairs have yet been made to the vault.
The Famous
Writers:
Karel and Jozef Čapek (Jozef died in Bergen-Belsen in 1945)
František Langer
Karel Hynek Mácha
Božena Němcová
Painters:
Alfons Mucha
Max Svabinský
Mikolaš Aleš
Adolf Kašpar
Composers:
Antonín Dvořak
Bedřich Smetana
This is but a short list of the luminaries of Czech arts and letters. The cemetery is just as beautiful as it is famous. When visiting, one can drink in the stunning views of the Vltava River and Prague Castle before enjoying a stroll through the cemetery grounds.