Litomysl International Opera Festival
By Tracy A. Burns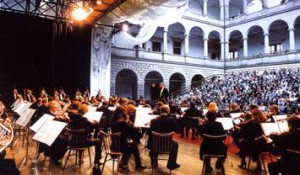 Now in its 55th year (in 2013), the Litomysl International Opera Festival ranks as the largest open-air classical music festival in the Czech Republic. Taking place from June 13 to June 30, the festival is centered on the works of Czech composer Bedrich Smetana, who was born in this east Bohemian town across from the chateau that boasts Renaissance sgraffito on its façade and a well-preserved Baroque theatre in addition to remarkable Rococo style painted walls inside.
Features of the festival
The festival features operas, gala concerts, oratorios, and cantatas as well as symphonic, instrumental, and chamber music, all played by well-reputed international and Czech ensembles and guided by much-acclaimed conductors. Many performances are held at Litomysl Chateau, which has been listed as a UNESCO World Heritage Site since 1999, but there are also concerts in churches and cathedrals in Litomysl, a town that traces its history back to 981.

Highlights this year
One highlight this year is a unique version of Smetana's The Bartered Bride for children, performed by Detska Opera Praha (June 24). Pyotr Ilyich Tchaikovsky will be the focus on June 26, as the Czech Chamber Philharmonic Orchestra of Pardubice pays homage to him. The National Theatre Prague performs Smetana's Two Widows (June 29).
The closing concert
The closing concert emphasizes symphonic and orchestra arrangements that are rarely played due to the high level of skill required to perform them. On the agenda of the grand finale are the Symphonic Dances from West Side Story and a suite from the film Ben Hur. The Czech Philharmonic Choir of Brno, the Prague Philharmonic, and the Prague Symphony Orchestra FOK take on this demanding repertoire.
Other performances
Henry Purcell's The Fairy Queen will be performed at the nearby Nove Hrady Chateau in late June and early July. Smetana's My Country opened the festival.
Past years
In past years Czech soloists Dagmar Peckova and Eva Urbanova have taken part. The National Theatre Prague, the Slovak National Theatre Bratislava, the Czech Philharmonic, and the Slovak Philharmonic are a few of the ensembles that have participated in previous seasons.