Bohemia Crystal – The Art of Czech Crystal
By Erin Naillon
One of the Czech Republic's most sought-after products is crystal. Given the long history of crystal production in the area, it's hardly surprising that Bohemian crystal now ranks among the world's best.
Bohemia Crystal – Early History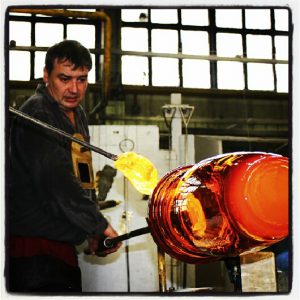 In pre-Christian times, the area was settled by Celts, who were fond of glass and enamel beads; blown glass was produced in the 3rd century B.C. Sites, where glassmakers worked, have been found in the Lusatian Mountains of North Bohemia. These date to approximately the mid-13th century. During this time, Bohemian glass was used in monastery windows. The following century saw the industry begin to thrive, and in 1414, the first true glass factory in the world was founded in Chribska.

Bohemia Crystal – Crystal Factory Excursions from Prague
Check out our Crystal factory excursion near Prague:
Bohemia Crystal – Crystal Factory – Private Day Trips from Prague

You can also learn how to blow Bohemia crystal and wind beads yourself!
Bohemia Crystal Experience – blow out a vase and wind beads yourself 
The Rise of Bohemia Crystal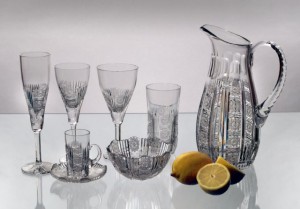 Potash and chalk, the glassmakers discovered, made their products more stable than the Italian imports. Various factories sprang up around the area, including Skalice, Nový Bor, and Kamenický Šenov. During the Baroque period, covering the end of the 17th century and extending into the middle of the 18th, manufacturing reached a peak of excellence. It was in the 17th century that Emperor Rudolph II's gem cutter, Caspar Lehmann, invented the process of engraving on glass.
The dawn of the 18th century saw Bohemia as the world's leading producer of glass. Bohemian houses, as they were called, were located worldwide, including New York, Cairo, Mexico, Beirut, and throughout Europe.
Production and Innovation
The 19th century brought the Industrial Revolution, and the ability to mass-produce the area's most intriguing product. Czech crystal was now far easier to make, sell, and export. In the middle of the century, the Czechs established several schools of glass-making throughout the country; they also taught the skill in other countries. The first black glass in the world had been created by a glassmaker in Bohemia, and in 1861, Viennese businessman Josef Schreiber established a grinding plant in Světla nad Sazavou.
Bohemia Crystal – Modern Times
In the 20th century, the country was devastated by two world wars, then the iron grip of communism. Despite the upheavals, crystal production was maintained, and many an artisan turned out excellent works over the decades. With the coming of the free market in 1989, the crystal was available to foreign tourists flocking to Czechoslovakia/the Czech Republic and looking for souvenirs.
Currently, the Czech crystal is one of the most popular items to buy for visitors to the Czech Republic.  It is available in a staggering variety of forms – glasses, candlesticks, rings, chandeliers, vases, and much more. Once again, this art has taken a well-deserved top place.