Rent Electric Car & Enjoy Prague without Parking Fees
E-CARS RENT, the biggest electric car rental in the Czech Republic located only 5 minutes from the Václav Havel International Airport, invites you to Prague experience without parking fees and without contributing to the capital city pollution & noise.
You will be picked up right at the airport and transfered to our rental next to the airport.
We can also arrange transportation if you need to go back to the airport or to your hotel after you bring our car back.

All our VW e-cars are easy to drive as they have up-to-date navigation systems in both English & German as well as an automatic transmission.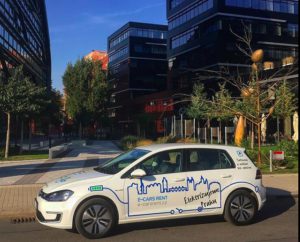 Financial & logistic advantages:
Only with e-car you are permitted to park 24/7 for free in Prague!
With our service you can save up to 1900 CZK (76 EUR) a day (!) for parking fees.
With our e-cars you can park in blue zones present in every street making up most of the available parking in Prague,
including the very historical center. The parking spaces are marked with blue horizontal stripes on the road and parking zone traffic sign.
When you rent an electric e-car you will receive a special recharge card for it.
You can use it free and charge your electric car at all the numerous charging stations in Prague.
Compared to a conventional petrol car you save 200 CZK (8 EUR) every 100 kilometres.
Prices and booking: http://e-carsrent.com/cenik/
Contact us:
CARPOINT Praha
Ke Kopanině 529
Praha – Tuchoměřice 252 67
WE ARE OPEN NONSTOP
We are located close to Václav Havel Airport, 800 m far from the exit of the D7 highway. GO parking is our closest neighbour.
HOTLINE 24/7:
+420 601 123 510
E-MAIL
info@e-carsrent.cz